Tasty starters
Ingredients:
Tomatoes (medium sized) 8-10
Potatoes 6-7
Bread Slices 3
Onion (Chopped) 1
Chopped green chillies and coriander leaves
Boiled peas ½ cup
Mango powder ½ tsp
Garam masala ¼ tsp
Salt and chillies to taste
Method: Boil potatoes in salted water and mash. Add bread slices to the mashed potatoes and mix well to form a smooth dough. Add salt, red chilli powder and keep aside.
Cut the top of the tomatoes and scoop out the pulp without breaking the tomatoes. Heat 1 tbsp oil in a pan and fry onions and green chillies. Add tomato pulp and fry for some time. Add 1 tbsp mashed potato and peas and cook the mixture till it is dry. Add spices and remove from fire. Stuff it in the tomatoes.
Divide the remaining potato mixture in 8-10 portions and cover the stuffed tomatoes with mashed potatoes. Shape into balls. Roll each ball in cornflour and deep fry in hot oil till crisp and brown.
For serving, cut each tomato into two equal halves and garnish with chopped coriander leaves.
Candy
Tomato pulp 500 gm
Sugar 500 gm
Butter or ghee 60 gm
Salt 1 tsp
Citric Acid 1 gm
Dessicated coconut 1 tbsp
Castor sugar 1 tbsp
Method: Cook ripe, red tomatoes till soft and strain the pulp.
Put the tomato pulp in a heavy-bottomed pan and cook. Add sugar, butter and citric acid till a thick mass is obtained. Cook till it leaves the sides of the pan. Spread it on a greased plate and cut into cubes when cooled. Roll each cube in coconut and castor sugar mix. Store in airtight containers.
Tamatar shahana
Tomatoes (medium sized) 8
Shelled peas ½ cup
Onion (chopped) 1
Keema 50 gm
Ghee 1 tbsp
Cream 3 tbsp
Salt & pepper to taste
Sugar 1 tsp
For Curry:
Onions 2
Ginger, garlic paste 2 tsp
Coriander powder 1 tbsp
Cumin powder ½ tbsp
Garam masala 1 tsp
Chilli Powder ½ tsp
Turmeric ½ tsp
Chopped coriander leaves
Method: Wash and wipe the tomatoes. Cut a small slice from the top of each tomato to form a lid. Scoop out the pulp with a spoon and reserve. Mix salt, pepper, chilli powder and sugar. Sprinkle a little of this mixture in each of the tomatoes. Invert and keep aside for 20 minutes.
To prepare the filling, boil the peas and pressure cook the keema. Heat ghee and fry onions till transparent. Add the boiled peas and stir for some time. Add keema and fry for 1 minute. Stir in the cream and cook for 5-7 min. Add salt, pepper and green chillies. Cook till oil separates. Fill this in the tomatoes and cover with lids. Bake these in a pre-heated oven at 190°C for 15-20 minutes.
Curry: Heat oil and fry onion and ginger-garlic paste till golden brown. Add the masalas and fry for 2-3 minutes. Add the tomato pulp, salt and red chillies and cook till oil separates. Add 1 glass of water and simmer for 10 minutes. Remove from fire and add garam masala and chopped coriander leaves.
Arrange tomatoes in a dish and pour the gravy on top. Garnish.
Tomato sausages
Sausages ½ kg
Onion (sliced) 2
Tomatoes (chopped) 2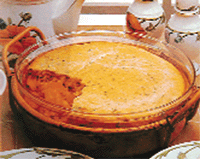 Tomato sausages
Tomato puree 125 gm
Water ½ cup
For topping:
Self-raising flour 3/4 cup
Egg 1
Milk ½ cup
Oil 1½ tbsp
Coriander leaves (chopped) 1 tbsp
Method: Heat oil in a karahi and cook suasages until golden brown all over. Place these in an ovenproof dish.
Fry onions till transparent. Add tomatoes, puree and water and stir till it comes to a boil. Let the mixture simmer for 5 minutes. Pour it over sausages. Prepare topping by combining sifted flour with sugar, cornmeal and coriander leaves. Add egg, milk and oil to it and mix well.
Spread the topping evenly over tomato mixture to cover completely. Bake in moderate oven for 30 minutes.
Tomato rice
Rice 2 cups
Tomato pieces 2½ cups
Onions (sliced) 2½ cups
Coconut (grated) 1 cup
Peas (shelled) ½ cup
Black pepper ¾ tsp
Cloves 3
Cardamoms 3
Salt 1 tsp
Sugar 1 tsp
Oil 2 tbsp
Hot water 3 cups
Method: Wash the rice, drain and keep aside. Heat the oil. Put black pepper and powdered spices in the oil and fry. Add sliced onions and fry for sometime. Now pat rice in the fried mixture and fry for 5-10 minutes. Then put tomato pieces, salt, sugar, grated coconut and peas. Fry for some more time. Add hot water and cover with a lid. Let the rice cook on slow fire.
Serve hot and garnish with fried onions and coriander leaves.
What to do if your family fusses about tomato skin pieces in gravy?
If you need just one or two tomatoes for a dish, pierce the tomato with a fork or skewer and hold it over an open gas flame turning it round all the time. In a few seconds the skin will burst. Remove from flame and when cool enough to handle, peel off the skin, it will come off easily with no pulp adhering to it.
However, if the number of tomatoes is more then put these in hot water and let them remain in it for 1-2 minutes. Plunge these in a bowl of cold water and peel.
Do remember that tomato peel is indigestible and a valuable source of fibre. Use peeled tomatoes and tomato puree quickly as exposure to light and air reduces the amount of vitamin C in tomatoes.