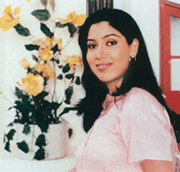 Sakshi is a new-age woman
"Yet, I'm convinced that a large majority of Indian women have a passionate love-hate relationship with Parvati's persona. Many women who are extremely unhappy after choosing to be assertive, independent and self-reliant, say that they're dying to be like Parvati strong but completely submissive to the family and to Indian traditions. The truth, I think, is that women in our country have a choice between different kinds of stress or unhappiness. First if they acquiesce to being a Sita-like woman, they have to kill their ego, compromise in every situation and suffer the consequences of their sacrifice which are not always good. There is a lot of ungratefulness, rejection and victimisation in our society for women and often, all sacrifice and compromise becomes absolutely meaningless in the final analysis. In extreme cases, a woman's virtuous behaviour and submission to an ideal is abused in a world where goodness is often mistaken for weakness. Parvati, too, is incredibly idealistic. She does not even condemn or expose those who commit premeditated evil acts. She covers up for them, makes excuses and suffers herself rather than jeopardise their comforts.
"On the other hand , when a woman rebels, questions archetypal situations and defies her family or society at large, she stands to be ostracised, accused of breaking up a family or destroying social traditions. She can fracture her marriage, lose her place and rights within her family, her right to her children and can be financially deprived unless she is well-to-do in her own right. So the stress is inherent in both options. Each woman must decide which lifegraph suits her and follow her own conscience to achieve the persona she finds desirable."
"Parvati is holding millions of Indian women spellbound for two major reasons. Just like a whole galaxy of saints and sacred people, she is spiritually very strong and therefore able to be gentle. She's totally secure in her self identity and seems to rise above all the wrongs done to her. She is happy and content despite what others do to harm her and has the respect and love of her husband. Such a woman always seems ideal and worth emulating. Secondly, she finds tremendous social approval. She is in a male-driven society, the ideal set up by history, mythology, religion and social custom. She is the perennial ideal impressed upon every Indian woman's mind."
Sakshi finds Parvati an unnatural character in today's India. "Sometimes, I wonder how such a woman can exist," she says, "She's not faultless yet she's seen as pure by viewers. She is adulated as the ideal by all. Today, no sensible woman can be like her. I myself would work for everyone's happiness, but not at the cost of my own happiness and peace of mind. It is equally important for me to be fulfilled and contented. I cannot cover up the wrongs of others and suffer the consequences of their misdemeanours. I am ambitious, sometimes defiant and hard-working. I don't see anything wrong in being the way I am. Parvati is so cloyingly sweet that I would now welcome the role of a rebel. I'm not doing any other serial because Kahani... takes up one complete fortnight every month. I can't work in one more daily soap and give up all my time. I'm looking to working in films like Astitva, Virasat or Hu TuTu. Though I can dance and sing around the trees like any heroine, I prefer strong female roles and I will do one soon I hope. Parvati is my last and only role as the unreal sati-sadhvi Indian woman.
In her personal life, Sakshi is typical modern Indian woman. She was brought up and educated in Delhi and went to a mass communications college for higher qualifications. She appeared for the IAS examination. She did theatre in college but was never trained professionally for acting. Sakshi is determined to be a good actress. Her family lives in Alwar, Rajasthan. "We are Rajputs and staunchly traditional and religious. But there's space for everyone. I am under no pressure to marry or settle down. My peers in Mumbai seem to be a different breed. They have numerous affairs, relationships and clear ideas about marriage. They want cars, foreign trips, money and comforts. For them, Parvati is only a vague non-entity on television, entirely avoidable. I am fairly clear about what kind of woman I wish to be. My life has been value-based, slightly old-fashioned and I am not yet convinced enough to change. I am modern but would like to examine options before I change to different persona. I can never be a real life Parvati. But I do respect the values given to me by my parents!"