Our arrival at the dak bungalow coincided with a burst of gunfire. Most of us dived for cover thinking that the dacoits or, worse still, the Uttar Pradesh police had attacked. The fear was not unfounded. It was common knowledge that the Lalaram-Shriram gang was hell bent on eliminating Phoolan Devi before she surrendered. The UP police, on its part, was equally determined to end the Madhya Pradesh police's "surrender drama" and mete out a gory end to these criminals. On January 26, the UP police had been tipped off about dacoit Ghanshyam's surrender plans. It raided his hideout and managed to injure him. The idea was not only to "eliminate " him but also to torpedo the plans of the MP police to corner all the glory. After all, a UP police officer said agitatedly,"Phoolan hamara shikar hai."
As the gunfire ceased, it became clear that Phoolan Devi's gang was present in the dak bungalow. It was their last shot, a sort of farewell to arms!! We raced across the lawn to where a motley group of baghis were standing. A photographer jumped over the hedge and landed directly in front of a reed-thin frame with a red bandanna tied to the forehead. The barrel of the gun in her hand was still smoking. As he lifted his camera to snap a shot, the barrel descended menacingly on him. It was simultaneously followed by a volley of abuses. They were quite an earful. The SP, Bhind, Rajendra Chaturvedi, who was singlehandedly responsible for the surrender, the biggest after Jaya Prakash's event, quickly came between the photographer and the Dasyu Sunderi. "Move back...move back," he desperately shouted at him. "Idhar mat dekhna saale, maar daugi," Phoolan hissed. The photographer slunk away.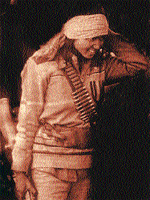 I hadn't expected to find a ravishing beauty in Bhind despite the hype about her being a Dasyu Sundari, but what hit me at first sight was her crudity. It was not just in her choice of words. It seemed to belong to her like a second skin. Her manner, style, gait, squinting of her chinky eyes et al conveyed the dominance of the baser instincts. Moreover, she looked incredibly dirty. She probably hadn't had a bath for days, may be weeks, though Phoolan's life events were centred around water bodies. She had driven her parents to their wits' end by wallowing in the Yamuna's shallow end all day long ever since she was a kid. They used to despair that she stayed there long after other girls came home, splashing around with the boys. It was at the edge of the village well that she had roughed up the sarpanch's son. It led to her first term in jail on a false dacoity charge. Before that, her husband, Putti Lal, all of 30, had objected to 11-year-old Phoolan's frequent trips to the well in Maheshpur. He claimed that despite being his wife, Phoolan mixed too freely with the village loafers. On several occasions, Phoolan had been beaten up by Putti Lal for this 'misdemeanour," and it had not changed her. Following a tiff with her husband, Phoolan was dispatched by her father to live with her sister in her in-law's house. There, one hot afternoon, she went to the well for a drink of water. Kailash, a fellow villager, was bathing there. She joined him. The father of three children fell for her hook, line and sinker. He took her to Kanpur and secretly married her. "We stayed in Kanpur for several weeks and saw many films," he told me when I met him in the ravines in 1982. He had fond memories of her and of the time they spent together. What drew you to her, I had asked him idly. His answer startled me,"Sahib, bahut sexy thi."
Vikram Mallah, a member of the gang, too, first discovered the fire in him for her when he saw her bathing in the Yamuna. Perhaps, Vikram was her only true love. He was killed by Lalaram-Shriram when he himself was bathing and Phoolan was sleeping on the banks of the river. She was taken prisoner by the gang and taken to Behmai via the river route and the 23- day-long humiliation heaped on her culminated in the walk to the village well in the nude. When she returned to Behmai to seek her revenge, she shot just one person in the village square. The others, 19 were killed and 5 injured, were taken to the river bank before they faced a hail of bullets. Mallahs (boatsmen) and water are inexorably linked. Phoolan's fate could not be different.
As the gang moved into the dak bungalow, a dacoit remarked lightheartedly, "SP sahib, khana nahi milega?" Chaturvedi had already laid out everything on the dinning table— veg, non veg and bottles of country liquor. The men pounced upon the liquor bottles. Phoolan asked for water, drank it hungrily as if swallowing chunks of half-cooked mutton.She then asked for a private audience with the SP. We waited anxiously. Had she changed her mind? Half an hour later, the SP came out of the room. He loudly called for the local Station House Officer and whispered urgently into his ear. "Jaldi karo," he commanded him. The SHO clicked his heels and ran into the night. "What happened inside?" we wanted to know urgently. The SP smiled wearily and said,"Just another surrender condition." "What?" went the chorus. "Phoolan wants new clothes to wear at the surrender." Fifteen minutes later, a couple of darjis (tailors) arrived with their sewing machines. The entire gang had to be outfitted. The tailors finished their job at 4 am. Phoolan went to the ceremony in a new pair of khakis.
ON PHOOLAN'S TRAIL—JANUARY, 1982
The 'contact' fell into our lap like a ripe mango. My colleague, Dilip, and I were having our morning cuppa in The Pioneer office when a rustic-looking but neatly dressed man walked in. He had a panther-like gait and cat-like eyes. He introduced himself as Jagmohan Tiwari. I asked him to wait, and then forgot about him. Dacoits had struck in Kanpur Dehat and I was trying to contact the district police for details. Fifteen minutes later, while going to the washroom, I saw him sitting patiently near the reception. I decided to give him a minute.
Tiwari was no ordinary faryaadi. He informed me in the most kindly tone that he was better known as Jagga Dacait. Yes, the same Jagga who was with the Madho Singh-Manohar Singh gang and who had held to ransom a busload of children of Scindia School, Gwalior. He had surrendered to JP and now lived in an open jail in Fatehgarh. Without any further ado, he asked me to come with him if I wanted to meet Phoolan Devi. He said that she wanted to surrender and if I could convince Jails Minister Sanjay Singh and Chief Minister VP Singh, he could motivate dacoits chiefs Malkhan Singh, Chhabiram and Anar Singh, besides Phoolan to lay down their arms. He spent the next two hours with me and I became convinced that he had a direct line to the dacoits.
A few days later, I got a green signal from Sanjay Singh. The deal was simple. I would meet Phoolan, tape an interview and terms of surrender and use it in my paper before handing it to the authorities. Jagga was to be the go-between. Dilip and I left the next morning on Enfield motor cycles with Jagga and his accomplice called Netaji riding pillion. We reached Kanpur and then headed for Mainpuri. In Mainpuri, Jagga contacted his people and told us that we would have to meet Chhabiram first. He was camping about 40 km from Mainpuri in a village. Chhabiram was certainly higher in the dacoit pecking order than Phoolan. Once he had camped in a village and challenged the police to arrest him. For more than a month, he stayed there but the police could not dare move in. It was the biggest challenge to authority ever faced by the UP police. Jagga also told us that Phoolan had contacted Chhabiram and had asked him to check us out. If our interview with him went off well, her comfort level would rise, he said. There was also a possibility of Phoolan being with him.
We moved from the state highway to a side road and after 10 km or so stopped at a T-junction. From there the road slid into a mud track which led to a village. It was perhaps a kilometre away from the junction. Jagga and Netaji asked us to wait at the roadside tea shop and rode one of the Enfields to the village. We sat down to have tea amidst an idyllic setting — beautifully green wheat fields interlaced with mustard fields. The setting was charming and, oh, so serene!
We stretched out on the benches to give relief to our tired backs. This single action saved our lives, perhaps. The countryside suddenly buzzed with a swarm of bullets like in a locust attack. We hid ourselves under the benches. The suddenness of the attack and its ferocity had unnerved us completely. It was obvious that an 'encounter' was on and we could see policemen, hundreds of them, breaking the cover of the crops and running towards the village. We were in the middle of the cross- fire. "Bhaago," Dilip shouted suddenly and started to run towards the T-junction where our motorcycle was parked. He slipped and fell heavily on his left side. I helped him to his feet. He was in pain. "Are you hit?" I asked him. "No," he replied as we ran blindly towards the Enfield.
We miraculously escaped the bullets though we had tested our luck fully. We were so shaken that we rode non stop for five hours to reach Kanpur. We went straight into a bar. A huge shot later, Dilip examined his hand. He had a broken wrist. The shock of the 'encounter' had dulled his pain. Late evening, we phoned the PTI. The news was that Chhabiram could be among the dozen or so killed in the encounter. The identification had not been done till then. Was Phoolan there too? We left the city at 11 pm; this time in a police car borrowed from my cousin who was the District Magistrate, Kanpur.
We reached the Mainpuri police lines around three in the morning. Jagga was at the gate. He was looking very crestfallen. We asked the in charge about identification. The bodies had been collected from the site and dumped into a truck. "It is a huge heap. We will get them out at daybreak when the jamaadars come," he told us. We convinced him into lending us his torch and we climbed into the police truck piled high with dead bodies.
The vehicle reeked of stale blood and gunpowder. The thickened blood, spread on the floor, stuck to our shoes like gum. Jagga was like a man possessed. Furiously, yet meticulously, he turned over bodies and shone the torch into dilated pupils. He could put a name to each head."Yeh bhi gaya, saala," he muttered at times, before dragging another corpse from the pile. We helped him sift through the blood splattered mass. At long last, he stretched himself fully and announced, "Phoolan nahi hai." "Chhabiram hai," I asked him. "I don't know for sure. Let's check again." As dawn broke, we climbed out of the truck with blood on our hands. There were other tell-tale marks too on our person, but who cared. The Phoolan plan had gone for a six and that was all that mattered.
BEHMAI— FEBRUARY 16,1981— AFTER THE MASSACRE
By the evening of February 14, the news had come in. A gang of dacoits led by a woman calling herself Phoolan Devi had raided a remote hamlet under Sikandra police station in Kanpur Dehat district and mercilessly butchered 26 Thakurs. The figure was later corrected — 20 killed and five seriously injured. Even the Inspector General of Police office had no clue as to who this Devi was or where exactly Behmai was located. This was the biggest massacre during the last two to three decades. It became even a bigger story because for the first time ever a woman had claimed responsibility.
The road, rather the bullock cart track, from Sikandra to Behmai was treacherous to say the least. Our jeep had to cling to the hillside at a sharp angle to negotiate the narrow openings in the ravines. I hung on to all the grips in the vehicle for my dear life. A steep turn and suddenly Behmai burst into view. It comprised 100 houses, perhaps. The village square was filled with people. Every one was wearing white. It set off the police khaki brilliantly. The wailing was loud and heart-rending.
"She came from that side," a young resident told me pointing to the river. "She was looking for Lalaram-Shriram. Her men searched every corner of the village. She said that she knew they were coming for a wedding."
The account of the killings was dramatic as it was spine-chilling. She was like a woman possessed. With a loud hailer in one hand and a gun in the other, she went on a rampage, beating people without mercy. She had even snatched an infant from its mother's lap and dashed it on the ground. That infant, Sita Devi, is now 20 and invalid. She has not grown beyond two feet. Of all the people who had raped her for 23 days in this village after Vikram Mallah's killing, she could recognise only one — Surendra Singh. She pulled him out from the crowd and marked him for special treatment. It was said that Surendra was the first one to violate Phoolan on that fateful day. He was also the most regular. He took special pleasure in biting her breasts and spitting into her mouth. Phoolan first vented her fury on him, beating him black and blue. Not content, she shot him in one of his legs and then chased him through the square. Seeing him shaking uncontrollably and whimpering like a dog, she climbed the parapet of the village well and burst into a song,"Maar diya jaye ki chod diya jaye...." She shot his other leg too and kicked him violently dozens of times. Finally, she got tired of him and finished him off. The macabre scene continued for over an hour or so before she asked her trusted lieutenant Man Singh to take the Thakurs down to the river. Twenty were killed, five survived.
BEHMAI— AFTER THE SURRENDER
It was now known as vidhvaon ka gaon (widow's village) but the thought of revenge simmered still. Yes, they had heard that 'she' had surrendered. Fifty-year-old Ram Kumari sits at the doorstep of her mud-thatched house. Her's is the house of widows. All three men of the house were killed by 'her.' She looks after the children while her sisters-in-law work in the fields. "What can I say," she asks me and then quickly lashes out, "Hamari zindagi barbaad kar ke, khud mauj kar rahi hai sarkari mehman ban kar. Uske saath bahut bura hoga." Another woman, Bhagwati, pipes in caustically, "Murderers are being feted as freedom fighters. Wah yeh kya sarkar hai!" Later, as I turned to leave, the men called me back. "Give this message to the Chief Minister," they said, handing me a note. The message was terse: "Hame 20 saron ke badle sirf ek sar chahiye (We want just one head in lieu of our 20... that of Phoolan)."