Because you want to sizzle in the drizzle.
Because you want to dispel the myth that you would catch a cold if you wet yourself in the rain.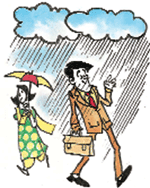 Because you want to make everybody wonder whatís wrong with you.
Because you want to relive teenage years when you walked the high road of love in rain.
Because even in your executive suit you want to make a personality statement.
Because this the best way to say Pyar hua, ikrar hua to the one you love, a la Raj Kapoor and Nargis.
Because how else can you do a rain dance?
Because when the raindrops tap your head, they kickstart your thinking process.
Because there is nothing like a good shower before the sun goesdown.
Because you like yourself in the wet íní wild look.
Because you attract attention.
Because you are a Hindi film buff and canít help but ape antics of rain-drenched stars.
Because you are completely nuts! Sane people just watch the rain.