Fardeen everywhere!
I tell you, the film press in Mumbai is really going into an overdrive plugging Fardeen Khan. The guy is just about everywhere ó magazine covers, tabloid front pages, cable TV channels, gossip columns, party pages ó the works! I mean, itís almost as if all the other hot hunks of Bollywood have suddenly caught a flight to Siberia!
And now, Fardeen is filling up the back pages of national newspapers, as well! Yeah, he has just recently been selected to be the new, ad campaign role model for the (pricey Ďní prestigious) Provogue line of menís hot haute couture ready to wear glitz gear ó "Redefining the Face of Fashion" ó with massive, full page (even doublespread) color ads that literally hit you in the face!
So, if his initial starrers are being recalled and re-released, well, Fardeen is merely tasting the delicious, heady taste of that much-tried, much-trusted showbiz maxim: Nothing succeeds like success, I guess...
Ajay, Kajol to split?
Personally speaking, it pains me and I feel sincerely sad whenever I hear of any tinseltown twosome on the way to part ways. Somehow, the entire estrangement-in-the-offing leaves a sick taste in my mouth... and no amount of brushing with any "ultra fresh" gel makes me sparkle up my spirits (leave alone my teeth)! So I still donít quite know what to make of the Bollywood buzz that Ajay Devgan and wifey Kajol are going to get divorced...
As a matter of fact, I recall having spoken with Kajol a long time back about thinking thrice before jumping into marriage; I thought the two of them were doing just fine being (genuinely) in love, hey! But no, she was so very sure that it was going to work out "fabulously" and that my concern was "terribly misplaced". I always knew she could never be the sitting-at-home-quietly "bahu" or "biwi" and that, sooner than later, sheíd be craving to get back to the studios and the cine shoots ó as in "lights! camera! action!" Compounded by Ajayís own new, increasing forays into films, films, films... canít quite blame Kajolís drastic decision if she has indeed put her foot down on docile domesticity, yes?
Still, this thing called hope is unimaginably awesome and it can (very often does) work miracles, right? So letís hope for a (matrimonial) miracle to happen in Mr & Mrs Devganís life. Amen.
Tum Bin hit man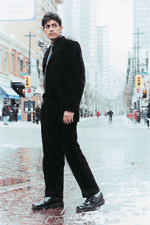 Priyanshu: A strong screen presence

Tum Bin, the spirited, youthful release by Super Cassettes banner, has (boldly) tread a fresh path by casting all newcomers... and opening worldwide on the same day as Amitabh Bachchanís Aks! How well the film does commercially will be revealed only by the eventual box office statistics, but there can be no doubt whatsoever that two of the young artistes have created a nice niche for themselves ó leading lady Sandali and one out of the three guys, Priyanshu.
Left to me, Iíd call him the hit man of Tum Bin! A good screen presence complemented by impressive histrionics has fetched him many fans Ďní admirers. And, I do reckon, that as he progresses from film to film, this tall, intense looker will definitely be a mature, driving force to watch out for in the not too distant future. "I want to give my 100 per cent to any role, every movie I do," says Priyanshu rather seriously.