GROOMING FOR THE SEASON
Make a splash with rain-resistant gear & cosmetics
WITH the monsoon doing its tap dance with great gusto, a whole new set of personal problems like hair care, skin care and clothes care crop up.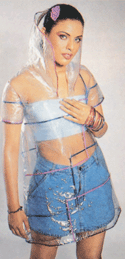 Flooded roads, stalled traffic, gaping potholes—they're enough to make anyone want to crawl into a borough and stay there.
But life must go on. Even through the trying monsoons, we have to feel good and for that we must look good and take care of ourselves. Let's begin from scratch. Looking good must not just be a cosmetic change, true good looks come from within. A clear skin and sparkling eyes can never go out of style. Nor can they be washed away in the rains! Monsoons also mean a general lowering of hygiene levels. Stagnant water breeds disease germs and flies and mosquitoes, hence we definitely need to up personal hygiene levels.
Says physician R. Mani, "Just as we need to be cautious about the water we drink and the food we eat, skin needs careful maintenance during the monsoon. Clean your skin thoroughly with an anti-bacterial soap or scrub at least twice a day, especially after you've been outside. An anti-bacterial cream can also be applied on the face to keep it healthy," he says.
Once you've taken care of your skin's cleanliness, lets look at make-up. And the most important thing to remember—use water-resistant products! It would hardly be convenient or cute to have that eyeliner or mascara smudge and bleed from raindrops! Says a beauty consultant: "Water-resistant vis-à-vis water-proof make-up is gentler on the skin." So read labels carefully when shopping for make-up this season and choose brands accordingly. Chambor and Nina Ricci, for example, have a range of water-resistant cosmetics. If you don't want to shell out big bucks for foreign brands, check out Indian brands like Lakme or Elle 18.
Opt for brightly coloured cosmetics to complement the grey outside. Metallic and earthy shades, which were hot this summer, can be continued, if one were to go by international trends.
The next step would be the right kind of clothes. Cottons, a boon in summer, are hardly appropriate for the monsoons. They take long to dry in case you're caught in a shower and also long to dry after laundry. Keep away from expensive silks. The temperature may drop, but remember the waterlogged streets, potholes and careless drivers. So what's the best bet? Georgettes and chiffons. They are easy to wash and wear, hardly require ironing and they last. Saris and salwar kurtas should be of these materials. If trousers are your favourite, team them up with georgette or chiffon tops. Keep a sweat shirt handy though, for those sudden drops in temperature after incessant rain.
Says Mumbai-based designer Kaushik Shrimanekar, "Monsoons pose a challenge because most clients want to look good in convenient fabrics. I keep outfits ready in chiffon and georgette like shirts and tops, which can be teamed with skirts and trousers," he says. Shrimaneker also suggests teaming of tops with short skirts.
In fact, most stores and designers who aim for the 'young, hip look' have clothes which are actually ideal for the monsoons. What else needs to be specially taken care of during the monsoon? Why, hair and accessories, of course! As with skin, hair needs to be thoroughly washed during the monsoon. Just remember the source of those water drops which pitter-pat on to your hair daily! It is obviously not clean, fresh water! So use warm water if you feel a chill, but shampoo your hair regularly. Hair experts also say that the most sensible thing to do this season is to maintain a neat, short cut, which can dry easily and quickly. However, if you really don't want to part with your tresses, protect your head from the rain with a water-proof cap or an umbrella.
Accessories add that special elegance to clothes, so we can hardly do without them, whatever the season.
Some essentials like handbags, need to be chosen with extra care during the monsoon. Keep you leather purse aside and opt for a more water-hardy material like patent leather. If you don't much care for the shine of patent leather, check out what the stores offer in terms of water-proof bags.
And, of course no monsoon can be survived without a pair of floaters—water-proof shoes to brave the waterlogging. Bata and Duckback have excellent monsoon shoes for reasonable prices. As do most upmarket stores and brands, but beware of the price!
That just leaves us with one another area—what jewelry do you wear? And here's the easy answer—anything! Yes, anything, because this is one thing the monsoon cannot tamper with. So if you feel like flashing diamonds or gold to brighten a gloomy day, go right ahead. Go easy on silver though, oxidised silver may be a much better bet. Especially in areas where the wind may contain high levels of salinity. And costume jewelry can be worn with not a care in the world.
So bring out your pen and paper, make a monsoon checklist keeping these points in mind and enjoy! The weather outside may be dull and gloomy, but your heart could well be . . . singing in the rain!—INFS