M A I N N E W S
LS adjourned over UTI muddle
Oppn, Bench members clash
Tribune News Service and UNI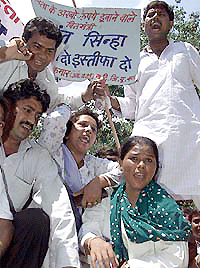 Activists of the youth wing of the Congress shout anti-government slogans near Finance Minister Yashwant Sinha's residence in New Delhi on Friday. — Reuters photo

New Delhi, August 10
The Lok Sabha had to be adjourned today for about two hours as the Opposition and the ruling alliance members clashed when the Congress tried to seek clarifications from Finance Minister Yashwant Sinha on letters reportedly written to him by former UTI Chairman P. S. Subramanyam.
At this, the Finance Minister attacked the Opposition saying that it was "extremely unfair" on its part not to have allowed him to reply to the adjournment motion on the issue in the House last week.
Mr Sinha's words resulted in protests by Congress members led by Mr P. R. Dasmunshi during zero hour.
Immediately, the ruling NDA members started displaying newspaper clippings of a report alleging instructions being given by a Congress member to a foreign bank to transfer certain amounts to another bank in violation of the regulations.
As the members from both sides stormed the well, Speaker G.M.C. Balayogi adjourned the House till 2 p.m.
Earlier, Mr Dasmunshi, quoting a newspaper report, said the former UTI Chairman had written three letters on May 18, June 15 and June 30 to the Finance Minister and sought a response from Mr Sinha on them.
Mr Dasmunshi wondered as how could the CBI conduct an impartial inquiry when Mr Sinha was occupying the Finance Minister's Chair.
The Finance Minister said he could not hear the Congress member in the din.
As the Speaker's efforts to restore order proved futile, he adjourned the House.
Meanwhile, in the Rajya Sabha, the Congress demanded a statement by the Finance Minister over the "contradictions" in his speech in the House and the statement of the former UTI Chairman.
Raising the issue during zero hour, Congress member Kapil Sibal quoted newspaper reports as saying that Mr Subranmaniam had in his bail application said he had indeed met the Finance Minister on July 2.
This was contrary to Mr Sinha's statement that had Mr Subramaniam met him, he would have advised the then UTI Chairman how to go about handling the issue.
When BJP members raised objections to Mr Sibal bringing up the matter, Chairman Krishan Kant said Congress member had taken the permission of the Chair.
Mr Santosh Gangwar said he would apprise the Finance Minister of the Congress, demand.

UTI scam: BJP points finger at Jaya
Jaipur, August 10
The BJP national vice-president Ram Das Agrawal today urged the Centre to institute a probe into the relations between ex-UTI Chairman P. S. Subramaniam and Tamil Nadu Chief Minister J. Jayalalitha to know the truth behind the sorry state of affairs of the UTI.
Talking to mediapersons here, Mr Agrawal claimed that facts about UTI functioning would come to the fore if an inquiry was held into the nexus between Mr Subramaniam and the AIADMK supremo.
He charged that there had been a "deliberate" attempt by the Opposition as well as some UTI officials facing the probe into the Rs 32 crore investment in Cyberspace Infosys Limited to focus only on this issue. UNI