The English version of Rajtarangani with interpretations was published in 1900. While this translation work was in progress, Stein also began work on Ancient Geography of Kashmir. He co-authored Ancient Geography of Kashmir with Govind Koul in 1896. The western scholars who visited Kashmir included J. Ph. Vogal, a Dutch. He came in 1900 to study archaeological sites, particularly the ancient temples in Kashmir. On Dr Aurel Steinís request, Prof Nityanand Shastri assisted Vogal. Vogal greatly appreciated Prof Nityanand Shastriís services: "Pt. Nityanand was recommended to me by Dr Aurel Stein (who) better than anyone else knew the learned class of Kashmir." Vogal worked on Chamba rock inscriptions along with Pt. Nityanand. And under the title Antiquite of Chamba, a book was published in 1913.
The relationship of Kashmiri scholars with western scholars began in 1875 when George Bhuler, a German scholar, visited Kashmir during Maharaja Ranbir Singhís regime. In three months of his stay, he was able to collect 300 manuscripts. Most of them were written on birch bark in Sharda script. Bhuler, however, was unable to lay his hands on the manuscript of Rajtarangani.
The ties between the Kashmiri and western scholars grew with the visit of Stein. He visited in 1888, 13 years after his guide George Bhuler, who worked in Tuinbegn University at Vienna, visited the valley. Stein succeeded in his mission ó to trace the original manuscripts of Rajtarangani.
Steinís visit paved the way for other western Indologists to come to Kashmir and study its language, literature and history. Eminent Canadian Indologist A. W. Strawton visited Kashmir in 1900. He took keen interest in Kashmiri texts and in this context corresponded with many Kashmiri scholars. He, however, died two years after his visit. The letters exchanged between Strawton and Kashmiri scholars in Sanskrit language fascinated Strawtonís widow Anna Booth. She complied the letters and published a book titled Letters From India in 1908 from England and the USA.
Again in 1923, Stein helped German scholar Maurice Winternitz with his work on Indian literature and Kashmiri Mahabharata traditions. On Steinís recommendation, Winternitz took the assistance of Prof Nityanand Shastri.
Fond of the Kashmiri language, Stein learnt to speak it from Pt. Kashi Ram. To test his understanding of the language, Stein heard folk stories. He translated Hatim Tilwoin into German and published it from Europe under the title Hatims Tales. He also published it in Kashmiri, using the Roman script, in 1917. When his work was published, Stein observed: "Had the able assistance of Pt. Govind Koul not been assured to me from the very beginning, I would have never considered to undertake the task." The record of these stories was passed on by Stein to George Grierson in 1910 for a linguist assessment.
George Grierson was impressed by the high philosophical content and linguist richness of Lalla Waakh (Lal Ded or Lalla Yogeshwari was a popular 14th century Kashmiri saint poetess). Waakh travelled from one generation to another by word of mouth. No manuscript was available. In 1914, Grierson assigned Pt. Mukand Ram Shastri the task of noting down the entire Lalla Waakh. Pt. Mukand Ram located a saint, Dharam Dass Darvesh of Gucchgam, who had learnt Lalla Waakh by heart. Pt. Mukand Ram Shastri recorded the waakh from Darvesh and handed it over to Grierson.
When Sir Richard Carnac Temple, a British Indologist, edited the sayings of Lal Ded, he traced Pt. Mukand Ramís genealogy as well and described him thus. "Pt. Mukand Ram Shastri was a living pupil in the line of descendent of the founder of the Kashmiri Shavisim Acharaya Abhanay Gupta."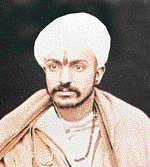 Nitayanand Shastri
Knowing the significance of Kashmiri language, Grierson decided to compile a dictionary in the language. Grierson received Steinís help again for this project. Pt. Govind Koul was requested to assist Grierson in this task. As the work on the dictionary began, Govind Koul died in 1899 at the age of 49. Stein then endorsed the name Pt. Mukand Ram. He worked on this project for 22 years till he passed away in 1921 (at the age of 68). The dictionary, however, still remained incomplete. Grierson then took the assistance of Prof Nityanand Shastri for 11 years to complete it. Finally, the dictionary was published in 1932. Commenting on the help rendered by Pt. Mukand Ram Shastri and Prof Nityanand Shastri in compiling the dictionary, Grierson said: "Pt. Mukand Ram Shastri laboured with me on this task for more than 20 years and often came to hot plains of Bihar, far away from his home in snow and mountains, and did not live to see the completed sheets of work on which he spent fruitful years of his scholarship. I also owe a heavy debt of gratitude to Prof Nityanand Shastri of Partap Singh College, Srinagar, who after the death of my assistant Pt. Mukand Ram Shastri placed all his great learning at my disposal and helped me in Kashmir idioms and phrases that had baffled my unaided knowledge. He translated and wrote a commentary of an ancient Kashmiri work Mahanaya Prakasha (written in 14th century) from which I elucidated the history of Kashmiri language."
Kashmiri scholarsí sincerity towards their work was unquestionable. When English scholar Pope Ved requested Pt. Mukand Ram Shastri to help him in Tibetan studies in 1908, the latter didnít know Tibetan. He first learnt Tibetan language for more than a year from a Tibetan lama before assisting Pope Ved. What followed was the translation of Tibetan treatise Kangur Tangur into Sanskrit. It comprised 1,50,000 shlokas. For this work, Pt. Mukand Ram Shastri earned a cash award of Rs 500 from Maharaja Partap Singh.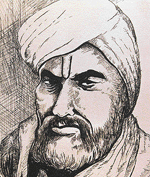 Pt. Mukand Ram Shastri

Pt. Mukand Ram Shastri also helped the Morovian missionary, Dr A. H. Franckie, in deciphering the Ladakshi inscription in Drass. Norwegian linguist Stein Konow took assistance of Prof Nityanand Shastri in deciphering many linguist and epigraphical works of Kashmir. Between 1920-1930, George Grierson edited and translated many Kashmiri works like Krishna Avatar Lila and Kashmiri Ramayana ( with the help of Prof Nityanand Shastri). Pt. Mukand Ram Shastriís commentary Shiv Parinaya was edited by Grierson and published in six volumes by the Royal Asiatic Society Bengal, Calcutta, between 1914-1922.
If Western scholars earned titles, they acknowledged the work put in by the Kashmiri scholars as well. The Order of Merit was conferred on Grierson in 1928. Acknowledging many messages of felicitation that came to him from all over the world, he paid a tribute to Kashmiri scholars. He wrote to Prof Nityanand: "I am indeed happy to receive the title of OM. However, my happiness is increased by knowledge that competent scholars like you who can judge consider that it has been deserved."
A similar type of tribute, Stein paid to Pt. Govind Koul when Knighthood was conferred on him on October 12, 1912. "The first sure and certain steps on this road of name and fame were taken with the help of Pt. Govind Koul." On December 14, 1912, Pt. Mukand Ram Shastri was also presented the title of Mahamohopadhyaya by Lord Hardinge of Penshurst, the Viceroy.
If knighthood gave Stein the honour to sit beside the Viceroy, the title of Mahamohopadhyaya gave Pt. Mukand Ram Shastri the privilege to sit next to the Maharaja of Kashmir.
With this coordination between the scholars, the ancient history and culture of Kashmir was popularised the world over.
Sanskrit spread in the USA when a Sanskrit scholar, Dr Brained Spooner, visited Kashmir in 1905 and came in contact with Kashmiri scholars Pt Mukand Ram Shastri, Prof Nityanand Shastri, Harbhat and others. The teaching of Sanskrit first began at Yale university under Professor Salisbury in the late 19th century. Later, Prof Nityanand wrote a four-volume commentary on Taitaraya Upnashida for Spooner in 1930.
The earnest efforts of the Kashmiri scholars are being realised now. As a tribute to them, a team of scholars founded the Nityanand Shastri Kashmiri Research Institute in Delhi in 1996.