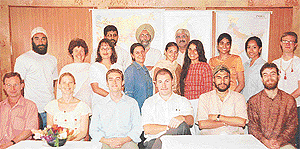 Professor Gurinder Mann with the students of the Punjab Studies Program: Nurturing a long-term interest in Punjab's history and culture

For Ed Maldenado or SpearIt as he prefers to call himself, doing his Masters in religion at Harvard. When he arrived in Delhi, it was overwhelming because so many sounds, sights and flavours assault one.A Mexican who is married to a Gujarati, whose parents are pujaris in the Isckon temple at Houston, his life changed when he came across a copy of the Bhagavadgita. "My life was a shambles and the philosophy of the Gita pulled me out. I can't leave it behind… I can now accept everything. Punjab, feels SpirIt, is India's best kept secret. The I in his name is supposed to denote Aham Brahmasmi. The scholarship in the West has focused on Bengal, Banaras and Pune and Punjab has been ignored. It is, after al,l a major juncture—where there is a confluence of major religions of the world — Hinduism, Sikhism, Buddhism, Islam and Christianity. If serious scholars start taking an interest in research that is vital to understanding the region, it can help create a fund of information.
For Emilee Myrick,doing her Masters in music at Santa Barbara, enrolling for the course was a travel opportunity. With an avid interest in different kinds of music, she was fascinated by the young girls performing the giddha at a wedding. She plans to return with her husband and share the experience with him because even though she got married three days before coming to Punjab, she did not postpone her visit. The same enthusiasm is echoed by Timothy Dobe who is doing his Ph.D. in religion at Harvard and is working on Saints of the Punjab. Fascinated by Sadhu Sundar Singh, a saint-poet who was born and lived in Rampur in 1929, Timothy wants to learn more about him and other saints. What really interests him is how in India old buildings are still functioning as places of worship, unlike ancient cathedrals in Europe which are almost always only of tourist interest and otherwise empty.
Jennifer Dobe, doing her P.hd in philosophy and studying aesthetics of art, Western philosophy is very biased and unidimensional. She found the trip around Punjab an intensive and stimulating learning experience. The Golden Temple, with its magical ornateness and the music at Durgiana Temple is something that will always linger on in her mind.
Pippa Virdee or Prithpal was born in Ludhiana in 1976. Her parents migrated first to Kenya and then to the UK. As a child of immigrants with two sisters living in India, she would come to India more often. Her perception is more like that of a native for whom India is an imaginary homeland . She is doing research on the Partition of Punjab: Violence, migration and resettlement. For the purpose of her study, Pippa is comparing East and West Punjab and is examining the impact of development on Ludhiana and Malerkotla in East Punjab and Lyallpur and Jhang in Pakistan.She is planning to record first- hand accounts or oral history.Pippa feels Indian culture has more of a presence in the UK because the Indians there are not shy of espousing their cultural differences.
Speedy development, a network and an infrastructure of roads, more consumer goods and raised levels of prosperity is what she found during her visit to India from Coventry, where she lives. Twentyone-year-old Pawan Rehill from Calgary is one of the youngest members of the group. What really excited her was the temples at Masroor, Kangra and the Golden Temple where they slept by the Sarovar on the marble floor at night. It was indeed a memorable experience. As she recounts: "One doesn't realise one is learning, until one has actually learnt. You actually see culture being created".
Born in Sweden of a Punjabi father and Swedish mother, Naila Kabeer freelances for Swedish television and newspapers. According to her, India is not covered adequately in the Swedish media because the perception is that of a poor country. All set to correct that flawed image, Naila is off to Bangalore to do research on the IT boom in India. She has enjoyed the intensive Punjab Studies Program, though she does feel that:"It is not like being in real India, it is so insulated. I would have liked to live in a village and be thrown straight into the thick of things."
Allison Willits, a graduate from Santa Barbara, who is interested in global studies, women's issues and the environment finds Punjab so very interesting and also a little strange. The way women are looked at, stared and objectified, spills over into the interaction, feels Allison. What really upsets her are the commercials for fair and lovely. Another student who is pursuing graduation in religion at Harvard is Jeff Albanese. He was motivated into religious studies by his interaction with a close Hindu friend and SpearIt, who was his teaching fellow. The Bhagavadgita fascinates Jeff, who is doing research on the different names that Arjuna addressed Krishna as. As he says: When my teacher said they were just fillers, I knew she was wrong. Everything has a meaning and I wanted to discover it.
One can not help wishing that someone in India could replicate the programme at a regional level and initiate Indian students to the wonders of a multidimensional nation. If foreigners can come so far to study our land, why can't we do the same?
Mann with a mission
FOR the past five years, Gurinder Mann has been bringing a group of scholars from different universities of the US to Chandigarh. Kapany Professor of Sikh Studies in the University of California, Santa Barbara, Mann is a crusader driven by the zeal to encourage serious scholarship and research on the history, culture, literature and language of Punjab. After a visit to Israel, where he saw the manner in which Jews were preserving their customs, traditions and history and what is more, even documenting it, Mann decided to focus on Punjab Studies.
He explains how he saw the need for planning out the Summer Program so intensively. There was an interest amongst North American research scholars and "I wanted to introduce them to Punjab Studies in a structured and organised manner and create conditions where they would find it comfortable to work and gain an insight into the region,"says Mann. Now that the programme is into the fifth year, Mann is satisfied because gradually scholars from other countries are also evincing an interest in the region. The enthusiasm and the keenness of the participants more than compensates for the rigorous eight-hour-lectures and an intensive tour of the region in which the group covers more than 2000 km. Since the aim is to acquaint them with the terrain and bring to life whatever they learn in the classroom, Mann goes about giving them information, introducing the landscape and training them in the use of the language. He feels Punjabis have not attended to the need to generate interest in the region.Punjab is unique because ranging from the Indus valley civilisation to Buddhism, Islam, Sikhism, Christianity, historical and anthropological evidence that can aid research abounds. The region has been introduced to students of comparative literature. They will get interested and their research will get an impetus.
The focus of the programme spans the history, culture, literature and textual studies.Next on his agenda is the need to create course material and consolidate it along with the basic information that is to be compiled for facilitating research. Interestingly, Punjab, both sides(East and West)is being viewed as a cultural unit.He wants to raise grants and help students financially. "We should build our own facility where these scholars can come, stay, have access to material and live comfortably", says Mann.— AN