DISCOVERED by American psychotherapist Roger and first practised by Gary Craig, the EFT functions on the Chinese concept of energy meridians. It believes that an ailment — physical or emotional — is essentially caused due to some disruption in the body's energy system. Introduced in India by Rohini Chopra, who learnt the therapy during her three-week stay in the USAlast year, the EFTis being used by people to release their negative energy. Rohini, who has till date conducted about 15 workshops in Delhi and Chandigarh, says this American psychotherapeutic technique involves nothing except tapping on the "12 identified ends of energy meridians in our body."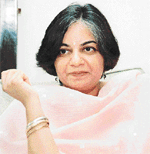 Rohini Chopra
Rohini, who practises the EFT to heal others, remarks that a year ago she healed with the help of reiki and acupressure. She came to know about this technique when she had gone to the USA to help her daughter settle there. "I had three weeks at my disposal. I just attended this workshop and realised how effective the technique was. And the best part of it is that after learning to heal yourself, you can start healing others. Each EFT workshop involves two sessions — in the first you learn to heal yourself; in the second you learn to heal others."
After getting back from the USA, Rohini went to call on her friend, who had been shot at by assailants. Recalls Rohini, "The accident had left such a deep impact on my friend that she had virtually stopped venturing out alone. She was the first person I cured."
Then Rohini treated another friend, Premila Bharat, who had a chronic stomach ailment. Premila, who had accompanied
Rohini on her Chandigarh visit, maintained that the EFT had changed her life for good. Premila, who is now herself a healer, has cured her brother-in-law, who was unable to move his legs due to a brain tumour. Mentioning the steps involved in the technique, Rohini says: "The EFT works on the belief that all physical ailments have an emotional basis and vice-versa. I can prove this with an example. During the recent workshop in Chandigarh, a woman complained of a persisting pain in her feet. As I started tapping on her for 'pain in the feet', she began to tell me how much she hated her mother. I then began tapping for 'hatred for mother.' She continued to list bitter memories of her childhood years. I kept treating her and she herself did not realise when her pain had vanished."
In Chandigarh, many have benefitted from the EFTworkshops. Ritu, a patient of multiple sclerosis, improved upon her walking and speech with the technique. Another resident, Poonam, was able to come out of her emotional crisis, and she is now using the technique to cure others.
Stressing on the point that the EFTis a simple technique, Rohini avers: "Negative energy gets released by tapping on the end points of energy meridians. The EFTdoes not claim to alter your external circumstances, but it arms you to change your attitude by accepting yourself as you are. The aim is to tell you that it is natural to experience negative feelings like anger, jealousy and enmity. You need not suppress them. Once this truth is accepted, the EFThelps you gain complete control over your energy system. It does not make you placid. It helps you respond peacefully, whatever the external circumstances."
EFT healers at you doorstep
Chandigarh now has a group of EFT healers, who have been trained under Rohini Chopra to heal others. This group holds regular EFT workshops where anyone can come for a cure. Anita Bansal, the local coordinator for the EFT workshops, can be contacted on phone (775090) for counselling. The EFT healers are particularly targeting girls in schools and colleges who are heavily into drugs but are unable to reveal this fact for fear of ostracisation. Such girls are free to contact healers through Anita Bansal. The anonymity of persons seeking counselling is ensured.