Monday, August 13, 2001
Lens on IT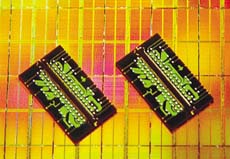 The 256 megabit Rambus dynamic random access memory (DRAM) chips produced by South Korea's Samsung Electronics are seen in this handout picture. The world's top computer memory chipmaker said on Wednesday it would begin mass producing the next-generation chips in August. Samsung completed a switch to a 0.15 micron manufacturing process from 0.17 micron technology, which could boost output by 30 per cent and at a lower price.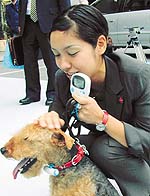 A woman displays "Bow-lingual", a hand-held electronic device that analyses dog noises into emotions developed by Japan's third largest toy maker Takara Co Ltd, at a Tokyo hotel. Through a microphone attached to the dog's collar, a voice-image travels via infrared beam to the owner's canine emotion pager, translating the noises into different emotions. For 12,800 yen ($103), a translator for your dog will be available in Japan from February 2002, with the company targeting sales of 2,00,000 units.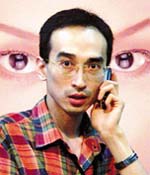 A Chinese man speaks on a mobile phone at a clothing and decoration fair in Beijing. China's mobile phone users soared to 117 million by the end of June 2001, according to a recent government report, putting the country on track to become the world's largest mobile phone market this year.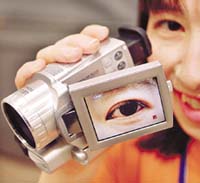 Panasonic marketing woman Yuko Inoue shows a close-up of her eye taken with new Panasonic NV-EX21, a dual-use DV-format digital camcorder with detachable network-ready digital still camera, at an unveiling in Tokyo. The new camera features an extra large capacity CCD, 1.08-megapixel recording capability, and built-in Leica Dicomar lens with a powerful 10x optical and 25x/100x digital zoom, and will go on sale in Japan in September for 205,000 yen ($1657)