Daydream yourself to sound sleep
Amar Jit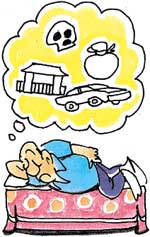 MOST of us day-dream secretly because we think that it is a waste of time and energy, an exercise to get away from the harsh realities of life. We try hard to overcome this habit.
But the truth is that day-dreaming is one of the well-known ways to plan for the future. Many persons who succeeded in life in their chosen fields had day-dreamed scores of times about what they intended to do.
Another advantage of day-dreaming is that it can be used constructively to overcome insomnia.
Problems and anxieties hindersleep. They prevent our minds from being relaxed.
To sleep, we need something peaceful to relax our minds. Our favourite day-dreams can help us achieve this. That is because a satisfying day-dream is packed with emotional power to throw out anxieties. Mulling over a problem in bed at night does no good to anyone.
At night what we need most is rest and relaxation. Day-dreaming can help us sleep. And by repeating the experiment every night, it can help re-establish our pattern of sleep. This can wipe out insomnia if there is no known physical cause for it.
Try the following experiment to fall asleep through day-dreaming:
Follow the usual hints to fall asleep.
Go to bed at the same time each night.
Do only soothing things immediately before bedtime.
For instance, some persons take tea or coffee before hitting the bed. If you are used to this habit, go ahead.
Now get into bed and lie down in any comfortable position that relaxes you. Start with the muscle relaxing exercise. It is all mental. Close your eyes and concentrate on your little toe asking it to relax. Then feel it relax. After this work your way up quietly and methodically through every part of the body up to your scalp, relaxing them. Finally, feel the bed holding your body and your body sinking gradually into the mattress. All this will ensure physical relaxation.
Now switch over to the relaxing of the mind. If it remains tense, it will tighten up your body again, destroying all hope of a sound sleep. For relaxing the mind, select your favourite day-dream. It could be a beautiful scenic spot you saw on a holiday trip. When you remember it, it soothes your mind. Make a mental journey to the same spot now slowly, then be there with those companions that you had once, going over each thing that you remember to have done. As your mind gets busy with this, you will find yourself drifting into slumber.
Or you could imagine a scene by the seaside in the com pany of your college mates. Go running along the beach or surfing the waves, enjoy the swaying of palm or coconut trees lining the seaside and so on.
But don't make your day-dream too exciting. It could prove stimulating rather than relaxing.
One good day-dream is to go on a trip that you have been wanting to undertake for a long time. It could be a trek to the Himalayas or a sightseeing tour to Europe or the USA.
Everybody can afford a day-dreaming trip. It frees you from the hassles of reservation of seats, hotel bookings, transportation problems, finances needed and so on.
Start by buying a ticket, packing your bags, taking a taxi to the airport, travelling in the plane in the executive class, enjoying the hospitality of the airline cusine and staff, then reaching your destination, going to your hotel (or friend's place), checking in, then going to visit the places you intend to and so on. As you get into this sort of dream, you will find that you would drift into sleep at one time while getting into the aeroplane.
At an other time while you are midway through your journey. Rarely would you be able to get through the entire trip. Of course, everything should move at a leisurely pace when you are in the bed. Imagine each and every aspect of your trip. For example, take your time to pack your baggage for the trip, linger over what things to take and what to reject, etc.
Day-dream every night and make this a habit of going to sleep. Eventually your sub-conscious mind will catch on and connect day-dreaming with falling sleep. Eventually, you will reach a stage when as soon as you lie down in bed, physically relax yourself with the relaxing exercise and then switch your day-dream on, you will be out like a light.
It is a lot better to go to sleep this way than to pop sleeping pills. Rather it is a healthy way to drift into a pleasant dream world and wake up next morning fresh and surging with energy.
Tips on sleep
R.K. Verma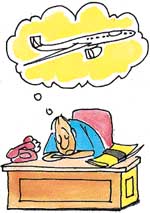 SLEEP is the most important for maintenance of health and longevity of human beings. It is appropriately called jagaddhatri because of its mechanism of overcoming wear and tear of the body due to physical work and mental stress and tissue loss. The following tips will help you sleep well:
One should sleep with head to the east or north.
The bedroom should be absolutely clean, well ventilated and away from noise and disturbance.
The bedroom should be draught free.
One should avoid sleep when the brain is excited e.g. after reading, thinking, drinking etc.
The mind must be absolutely free from worldly affairs and worries while going to bed. This may be achieved by praying to God at the time of going to bed.
Sleeping late at night leads to ill health.
A minimum of seven hours' sleep is required in 24 hours to repair the wear and tear of the body.
Sleep during the day should be avoided as far as possible. However, if you keep awake at night, take some sleep in the daytime. Day sleep is not harmful in summer, but in winter, it increases kapha, thereby causing respiratory and digestive troubles.
It is advisable to massage the head, soles and palms with oil before going to bed. By massage, dreams can be controlled.