Give the ethnic, yet different, touch to the living room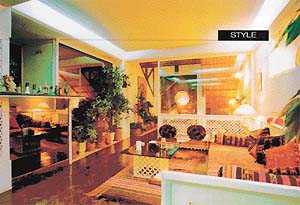 Bold Rajasthani colour combinations are not a must to get an ethnic look

Chattais, bedcovers block-printed with vegetable dyes, beaded and mirror- work cushion covers, earthen artifacts, et al, are all part of the ethnic look. Though this look has been on the scene for a long time now and it is a low-cost, interesting way of doing up your home, it is not really as simple to do up the ethnic look now.
For a simple reason. This look came into vogue in the early 80s with Shabana Azmi and Smita Patil adopting it with a vengeance and with the birth of Gurjari (the Gujarat Government enterprise spearheaded by Mallika Sarabhai and her mother Mrinalini Sarabhai), but has become so popular over the years, that at one time, almost every other home you walked into, sported this look. Unfortunately, the charm started wearing off after a while.
Naturally. Imagine this living room. Two low divans with bright block printed covers, mirror-work cushion covers, a chattai in front of the divans, a couple of colourful Rajasthani puppets hanging from the wall. A bookshelf made of racks placed on bricks, a Japanese paper lamp hanging down from one corner, a couple of plants in a wrought iron planter and there you have it, your basic ethnic home. Looks really pretty, works out very cheap too.
Different strokes
The only problem is that it looks just like many other ethnic rooms that you may have seen or walked into. So how does one make a room look ethnic and yet make it look different? Before getting into the how's and why's, lets get the basics of why one would want an ethnic room at all as opposed to one done up in steel and chrome, laden with silver and crystal? Or the one done more conventionally, with standard furniture picked up from regular upmarket readymade furniture marts?
The second option is far too bourgeoisie. Anyone and everyone can do that. What's more, anyone and everyone does just that. Take a wad of notes, go to a relatively good shop and pick up a three-piece sofa set. Add some glitz to the room with polyester curtains, a bright plastic planter with a rubber tree, an elaborately designed wall unit with the television and the music system, a completely mismatched woollen 6 x 4 woolen carpet in either maroon or red in front of the sofas and a smoked glass topped centre table on it.
The clincher is the red and yellow plastic bunch of flowers. Now, there's nothing wrong with this décor except that it is desperately a 'wanna be like the Jones' kind of effort. Which can instantly look better if:
The plastic flowers are replaced by a few sprays of fresh flowers, even if it is the cheapest variety.
The woollen carpet at least matches or co-ordinates with the colour tones of the other upholstery, the sofa and the curtains.
If the sofa upholstery is not plain but printed (meaning not necessarily block printed but with many colours), then the curtains should be of a plain colour. But if the sofa upholstery is, say a dark plain colour, then the curtains can very obviously bestriped or even printed.
Wall units. Please, please ensure that wall units are elegant. Which means no intricate wood work on the wood….And no white and brown together on the same unit.
Live it up in style
If it is the first option of steel and chrome that is preferred, then the home owner normally knows more about design and colour co-ordination than an average designer. He has browsed through enough design books and surfed enough design sites to know what looks pleasant to his eyes and perfect in his home. He can probably also ship home the best from anywhere across the globe. Actually, steel and chrome is a rather crude way of putting it. He'll have the best in Italian leather furniture that looks straight out of an Ikea catalogues. Even the language used to describe some of the stuff that he may use will be different. Futon, Duvet, Tudor, Hunter Douglas, chaise lounge, beveling… with original Jamini Roys, M.F.Husains, Anjoli Ela Menons, Raja Ravi Varma adorning the walls.
The question here, if all bourgeoisie homes look the same, then don't all high-end homes also look the same too? Well, in the broadest perspective they do, perhaps, since when money speaks, the best in the market is picked up. And the best doesn't come in abundance. So when a small number of people pick from the small 'best' available, again, their homes would tend to look like one another's.
Till of course they get customised home products, from dinner plates to curtains to bathroom napkins.
Creativity is the key
The third option, the ethnic look for your home requires maximum creativity. Perhaps that is why it originated with the intelligentsia and to date, is favoured mostly by them. But why cheap? Because traditionally, the creative lot is an impoverished lot because they essentially live by their wits. And somewhere there is a perverse pleasure in underplaying costs, maximising utility and displaying creative options for hackneyed regular usage items. Haven't you ever walked into a ethnic home, that has used a sabziwale ka tokri, albeit a small one, used by him to keep his mirchis, into a magazine holder. Believe me, if you haven't seen it, it looks real good. Place it under the hanging Japanese lamp and display a few magazines or drop the day's newspaper in it…it looks super. And the cost? Possibly Rs 30.
If you are planning a budget home, and want to use ethnicity as a theme, then let those creative juices within you flow. The whackier the idea, the more creative it is. Only ensure the whacky idea is not impractical. For instance, mitti ki plates and kulhads might look great in your kitchen but your washerwoman would probably want to fling them at your head. Here's are some tips on how you could do up an empty living room in the ethnic way.
Family needs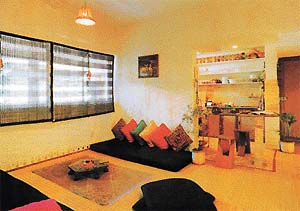 Low seating is suitable only for young family members
Chalk out the number of members you have in the house, so that a minimum seating arrangement can be worked out. Evaluate the needs of the members. For instance you may love low divans or gaddas on the floor but for if your family has even two members above the age of fifty, they will thank you if you remember that it is difficult for them to sit on the floor. Similarly, if there are small children in the house, you would do well to remember that children generally rush through rooms…and your wonderful planter on the floor or artifacts grouped in a corner of the room, will just get knocked down.
Seating arrangement
Decide on a mix of seating arrangement-sofas and low down. Depending on the shape of your living room, placement of furniture has to be decided. But ideally, the sofas should be placed in a way that the visitor has access to them first. He shouldn't have to trip over gaddas to reach the sofas as he is highly unlikely to sit on the gaddas. Also, organise for at least a couple of single movers. Like floor cushions or pouffes. It adds a casual look to the room and gives it a friendly ambience. There are some very interesting single ceramic stools too, that look like colourful Khurja pottery but are sturdy.
Colour coordination
You don't necessarily have to use conventionally bright ethnic colours. Reds, yellows and oranges seen in Rajasthan and Gujarat. You could do a cross between ethnic and western. For instance, take colour co-ordinates that are normally used in western designing such as black and beige. Try black ikat (from Andhra Pradesh) and combine it with treated and smoothened jute. For instance treated jute upholstery material for the sofas, with ikat covers for your divans, and baby cushions in deep, dark maroon ikat or mirror-work to be grouped together on the sofa. The black ikat-covered divan could replicate same cushion covers. Add a splash of colour by placing a huge flat black earthen urn in front of the divans, pour water into it and float a burst of marigolds in it. If it is an air-conditioned room, you could also add a couple of floating perfumed candles in it.
Artifacts
So you can't afford an M.F Husain? Big deal. Don't even bother about prints of the masters. Get those brightly done masterpieces of your children and frame them either with plain, unpolished wooden frames, or bright red, green or yellow ones. Group them in a placement on a corner wall or on a pillar. Throw an overhead spotlight on it. For your formal seating space, scour the emporiums. Ordinary-looking kalamkari wall pieces, or patta chitras, or Madhubanis, are inexpensive and priced between Rs 50 to 150 each. You can frame larger than their size using a cloth as the background.
Suggestions on ethnic homes and how they can look good and different, can be endless. The bottomline is, be creative and sensible in your designs.
—INFS