Brijesh Hirjee: A friend indeed!
After 'Kaho Na Pyar Hai' and 'Mujhe Kuch Kehna Hai', Brijesh Hirjee is on every producer's wish list as the hero's best friend, says Surabhi Khosla.
FROM Sprite commercials to a cameo in the decade's biggest blockbuster 'Kaho Na Pyar Hai', from condom ads to bagging a meaty role in the superhit, 'Mujhe Kuch Kehna Hai', life has been a roller-coaster ride for Brijesh Hirjee.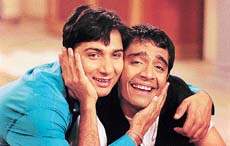 Hirjee has made a smooth transition from TV to films
One of television's most-sought-after comedians now, Hirjee's growth as an artiste has been remarkable. Acting with established stars, on the small screen, his big break came with the launch of Rakesh Roshan's 'Kaho Na Pyar Hai' where he played Tony, the hero's best friend.
The movie didn't just catapult Hrithik Roshan and Amisha Patel into the glitzy world of super stardom but also brought Hirjee directly under the discerning gaze of established directors. From then on there was no looking back for this extremely talented young man. Offers started pouring in and soon Hirjee found himself playing the best friend in the Tusshar Kapoor and Kareena Kapoor starrer, 'Mujhe Kuch Kehna Hai'.
Hirjee takes no credit for this sudden turn of fortune. He attributes it to God. "It was by God's grace that Vashu Bhagnani saw 'Kaho Na Pyar hai' and liked my performance in the movie. At that time, he was about to start shooting for 'Mujhe Kuch Kehna Hai' and was looking for somebody to play the hero's best friend."
The role seemed tailor made for Hirjee and for the second time in as many years, he became the devoted sidekick. Today, it would seem that he is the most 'in-demand' hero's companion as he has been offered similar roles in 'Kya Yehi Pyar Hai', 'Ashiquee' and 'Aap Mujhe Achhae Lagne Lage.'
However, he hastens to clarify that though his short stint in Bollywood has proved to be extremely repetitive, each character he's played had a different shade and all the roles have been written keeping him in mind.
But, he says, "I am making a very conscious effort not to take on every role of a hero's friend. I now want to become a bit 'unfriendly'. If you notice, my roles in 'Rahul', 'Tum Bin' and 'Aks' are very different," says the star.
Is he happy playing the clown in all movies? Says Hirjee, "Though it comes naturally to me. I feel comedy requires far greater acting skills than any other genre. For me, a comical character seems to pose a bigger challenge and appears to have much more scope and depth than any other role."
He hastens to emphasise, however, that playing comical characters does not mean that he has shut his mind to other roles. "I take each role as it comes and put as much in it as I do in comedy. I am planning a long innings in films."
Does his entry into Bollywood signal an end to his career on TV? No, says Hirjee emphatically. According to him, he started his career with TV and has a natural bonding with the medium. Moreover, the small screen, he claims, gives him a wide range to portray an assortment of characters, which for the time being is not the case with movies.
His latest role on TV is that of a small time photographer in Manjul Sinha's 'Yeh Hai Mumbai Meri Jaan'. Hariprasad [Hirjee] arrived from Jaunpur to Mumbai to become a glamour photographer. He has worked very hard to shed his small town image, anglicised his name from Hariprasad to Harry and hates talking about his past and would rather make people believe that he is from the US and not from UP.
He is also playing Dracula in 'X-Zone', an egocentric accountant in 'Janeman-Janeman' and a brilliant entrepreneur in 'Love Mein Kabhi Kabhi'.
The vastness of the canvas and range of possibilities that these roles offer prompt him to explore his acting capabilities further. Says Hirjee, "I love the challenge of getting into the mould of a complex role and experimenting with different characterisations."
Recently Hirjee was nominated for the best actor award on TV for the role of a murderer in the serial 'Govind Aur Ganesh'. According to him, the nomination was a relief as it freed him from the shackles of being classified as a comedian. He is even doing an out and out serious role in 'Bazaar'.
When asked about the role, however, he smiles a smug smile and says everyone was a little surprised. He admits, "It was a bit of a risk portraying such a complicated and intricate character but the challenged spurred me on. Honestly speaking, at first I was not very confident, since I had never played such a serious role, but my directors Rasika and Vandana motivated me a great deal and I have tried to live up to their expectations."
Hirjee says that it is life-like characters that excite him. And he adds, "I want to play roles that people can identify with. My characters should be in sync with the common man, someone everybody, including me, can relate to because if I don't believe in myself then how can I convince the spectators."
And convincing viewers comes naturally to Hirjee. His earlier apprehensions about joining the film industry have vanished with an alacrity that amazes most people. "I always felt my ordinary looks and frail built would impede my career in films and TV. But after 'Kaho Na Pyar Hai', Ithink they have become my assets. Today the industry is looking for talent no matter what size it comes in!"
(NF)