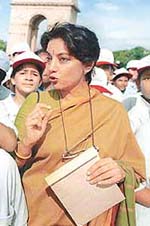 Shabana Azmi: Committed to meaningful theatre

In a sense, the comment applies in equal measure to the state of Indian theatre, where IPTA finds itself hard pressed in every way. Its coffers are empty and the enthusiasm to take it forward that its founding fathers like Balraj Sahni, Kaifi Azmi, Bimal Roy and Salil Chaudhury had displayed is no longer there.
Many have passed away. Among those who are keeping it alive are stalwarts like Sathyu, Hangal, Vijaya Mehta and Kaifi Azmi. Young generation Ďactivistsí include film stars Shabana Azmi, Bharat Kapoor, Rajeshwari Sachdeva and Anjan Srivastav, besides names like Ramesh Talwar and Vivek Marwah.
For them, the IPTA is still family and they consider themselves "children and grandchildren" of the grand old institution. What is more, it is their commitment towards good, purposeful theatre and at keeping the "IPTA tradition" alive that holds these youngsters together through these trying times.
"My most precious memory of the IPTA ambience is that it encouraged us kids to participate in activities," recalls Shabana, who has been with the association since the age of nine. "I felt fulfilled by merely lending a hand to the lightman or just passing tea around during the rehearsals."
During those formative years, it was a "custom" among actors of the IPTA to bring their children during the rehearsal. The kids made themselves useful either by helping backstage or participating in the Bal Manch plays. "So there was always a warm family atmosphere within the group," narrates Shabana.
"The commitment of IPTA members was amazing," recalls an old theatre lover. "At times, there were just six members in the audience, but the actors put their hearts in the show. I remember the play, Africa Jawan Pareshan, in which A.K. Hangal and Shaukat Azmi performed to an empty auditorium in Calcutta."
There was, however, another side to this commitment and camaraderie. The group was associated with Leftist ideologists and at one time, their plays used to be disparagingly called "communist theatre". For some strange reason, nobody resented that label. But today, the members are not too happy about it.
Explains Anjan Srivastava, the present vice-president: "When the movement started, the Marxist ideology was a progressive move against British imperialism. A number of our members were even party card holders and firm believers in Marxism. Some of our plays reflected the dominant thinking then.
"But today, I would like to make it clear that the IPTA is not the mouthpiece of any political party or its ideology. Yes, we still believe in the theory that art can serve as an instrument of social change. So we strive to produce meaningful theatre. But thatís it ó we do not indulge in slogan shouting."
Srivastava, however, does not want to address issues like poor financial management and how members have consistently been moving out in search of greener pastures, particularly films.
"Some rethinking is obviously necessary," concedes Shabana. "One way out is to probably seek state sponsorship. But we do not want to get into state politics. Another possible option is corporate sponsorship. Either way, we have to ensure that our right to artistic freedom is not compromised."
Meanwhile, a move is on to persuade members to take up life-membership all over again!