Sunday, August 19, 2001, Chandigarh, India


M A I N N E W S
United Cong challenges Badal
Chander Parkash and K. K. Goyal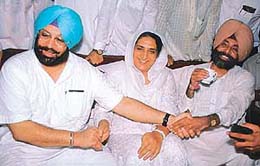 PPCC President Amarinder Singh, Convener of Congress Parliamentary group Jagmeet Brar and former Chief Minister Rajinder Kaur Bhattal (centre) hold hands to express unity at Mansa on Saturday.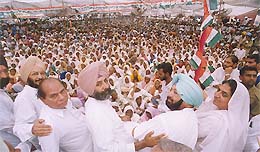 PPCC President Amarinder Singh, Convener of Congress Parliamentary group Jagmeet Brar, former Chief Minister Rajinder Kaur Bhattal and opposition leader in Punjab Vidhan Sabha, Jagjit Singh at the party rally at Mansa on Saturday.
— Photos by Kulbir Beera
Mansa, August 18
The PPCC leadership while showing unity among the party's rank and file today challenged the Punjab Chief Minister, Mr Parkash Singh Badal, to test popularity of his government by holding elections any time.
The leaders, including Mr Amarinder Singh, Mr Jagmeet Brar and Mrs Rajinder Kaur Bhattal, while addressing a massive party rally here asked Mr Badal to explain why he had not taken any action against Giani Kewal Singh, Jathedar, Takht Dam Dama Sahib, Bibi Jagir Kaur, former President, Shiromani Gurdwara Parbhandak Committee (SGPC), and senior members of his government who were allegedly involved in serious crimes.
The PPCC leadership claimed that rampant corruption, atrocities being committed by ruling politicians on the common man, 'sale' of government jobs, victimization of workers belonging to opposition parties and rising unemployment had exposed the hollow claim of Mr Badal that he would give Maha Raja Ranjit Singh-type rule in Punjab.
Mr Amarinder Singh, President of the PPCC, said the massive gatherings at Congress rallies held at various places in the past indicated that the people had decided to uproot the "misrule" of Mr Badal.
Mr Amarinder Singh alleged that Mr Badal had failed to fulfil any promise made to the people in the party's manifesto released on the eve of the last Assembly elections. On the contrary, Mr Badal had brought the state on the brink of economic disaster, he alleged.
Those who attended the rally included Mrs Malti Thapar, Mr Kirpal Singh Makha, Mr Jagjit Singh, Mr Sher Singh Gagowal (all former ministers) Mr Ajit Inder Singh Mofar, MLA, Mr VIjay Sathi, Dr Tara Singh Sandhu, Mr Harry Mann, Mr Kulbir Singh Sidhu (all senior functionaries of the party), Mr Dharminder Singh Sapolia, Member, PPCC Economic and Planning Cell, Mr Raghbir Singh, President, DCC (I), Muktsar, Mr Avtar Singh Joga, Mr Ram Pal Dhapai, Mr Manjit Singh Chalbuti and Mr Karam Singh Chohan.
The PPCC president claimed that 'Sangat Darshans' being held by Mr Badal in which he was trying to play with the sentiments of poor people, would boomerang on him.
He alleged that cotton growers were suffering heavy losses as the pesticides supplied to them to kill the American bollworm was produced in the factory run by the son-in-law of Mr Badal at Sangrur. He said Rs 10,000 should be paid as compensation for one acre each by the state government to every cotton grower.
Mr Jagmeet Singh Brar alleged that Mr Badal had not taken action against those party leaders who had been committing crimes including murder.