M A I N N E W S
Jaswant pledges support to Nepal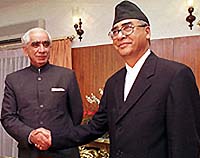 Indian Foreign Minister Jaswant Singh (L) shakes hands with Nepalese Prime Minister Sher Bahadur Deuba at his residence in Kathmandu on Saturday.
— Reuters photo

Kathmandu, August 18
External Affairs and Defence Minister Jaswant Singh, who is on a three-day goodwill visit to Nepal, met former Prime Minister and Nepali Congress president Girija Prasad Koirala here this morning.
Mr Jaswant Singh will meet a former Prime Minister, Mr Krishna Prasad Bhattarai, and Mr Madhav Kumar Nepal, leader of the main opposition party, before meeting the Prime Minister, Mr S.B. Deuba, later this evening.
During his meeting with the Nepalese leaders, Mr Jaswant Singh is understood to have reiterated India's full support and cooperation to Nepal.
Indian Prime Minister Atal Behari Vajpayee in his message felicitating Mr Deuba on his assumption of office last month, had expressed similar sentiments.
Mr Jaswant Singh's visit is the first by an Indian leader to Nepal since the June 1 royal palace massacre is scheduled to call on the new King Gyanendra tomorrow before leaving for India.
He is also expected to meet the External Affairs Minister, Mr Surya Bahadur Thapa, and the Sadbhavana Party president, Mr Gajendra Narayan Singh tomorrow.
The trade and transit issues and various other problems, including the inundation due to building of the Rassiyal-Khurda-Lautan dam across the Danav river, near the Nepal-India border, are bound to come up in the talks.
Mr Jaswant Singh on his arrival here yesterday said his visit "would strengthen and deepen the bilateral relations between the two countries."
The visit of the Indian minister assumes importance as it is taking place just a few months before the end of the validity of the Nepal-India trade treaty. Nepal wants to renew the treaty in its present form which provides concessions to export Nepalese goods to India but India has suggested a review of the 1991 Treaty of Trade before extending its validity beyond December 2001.
This is the first high-level visit from India to Nepal after Mr Koirala's visit to India as Prime Minister in August last year. Mr Jaswant Singh had visited Nepal in September, 1999, and his Nepalese counterpart at that time Mr Chakra Prasad Bastola had visited India in May last year.
"I have come here as a friend of Nepal. I have also come as an ambassador of goodwill and to promote good relations between the two countries," Mr Jaswant Singh told reporters.
The Nepal Prime Minister, Mr Deuba said "I feel honoured that India, a very friendly country, has sent its Foreign Minister to enhance our bilateral ties. I want India's support to reduce trade imbalance". UNI, PTI