Method:Cut cottage cheese into thick, big rectangular pieces of 3/4 inch thickness. Cut each piece into two from centre. Sprinkle salt and pepper and keep aside.
Mix maida and milk to get a fine paste. Add turmeric, salt and chilli powder. Add grated cheese and keep the batter aside.
Prepare the filling by frying onion in butter for 3-4 minutes. Add beans and cook covered for 5 minutes or till soft. Add grated carrots and cheese and stir for sometime. Add salt and pepper and remove from fire. Spread 1 tsp of filling on a piece of cottage cheese and place the second piece on top. Press gently. Dip the stuffed cheese in the batter to coat both sides and shallow fry in a pan till golden brown on all sides.
Serve hot with tomato or mint chutney.
Tasty boats
Ingredients:
Potatoes 4 (large)
Cottage cheese (mashed) 2 cups
Onions 2
Orange Juice 6 tbsp
Raisins 5 tbsp
Pepper and salt to taste
Orange slices for garnishing
Method: Wash and clean potatoes. Scrub lightly and prick with a fork. Bake these till soft. Cut in half and scoop out the flesh leaving the shells intact.
Mix paneer and orange juice in potato flesh and add raisins. Season with salt and pepper. Stuff this in the potato shells. Bake in oven for 10 minutes. Garnish with orange slices and serve hot.
Cheese souffle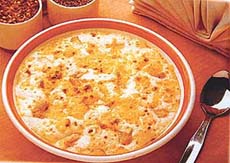 Ingredients:
Cheese grated 1 cup
Butter 250 gm
Self-raising flour 1 cup
Milk 1½ cup
Eggs 5
Salt and pepper to taste.
Method:Melt butter in a heavy bottomed pan and roast the flour lightly on low flame for 5 minutes. Stir continuously and do not allow it to become brown. Add milk and keep stirring to get a smooth paste. Cook till it becomes thick.
Separate egg yolks and whites and add egg yolks one by one to the milk and flour mixture. Add salt and pepper. Set aside. Whisk the egg whites briskly till stiff peaks are formed. Gently stir these into the sauce and add ½ cup grated cheese to it.
Prepare an oven-proof dish by greasing it with a little butter. Sprinkle 3 tbsp grated cheese on its base and sides. Pour the mixture into the dish till it is three quarters full. Sprinkle the remaining cheese on top of it.
Bake in pre-heated oven at 375°F for 25-30 minutes or till the top is golden brown.
Paneer dal
Ingredients:
Urad dal 250 gm
Cottage cheese 150 gm
Tomato ginger chopped 1 tbsp
Onion 1
Oil (for frying) ½ cup
Turmeric powder ½ tsp
Salt and pepper to taste
Red chilli powder ¼ tsp
Coriander leaves( chopped) 1 tsp
Method:Wash and soak the urad dal for 15 minutes. Boil 4 cups water with turmeric and salt and add dal. Cook on slow fire.
Cut paneer into small sized pieces and fry till light brown in colour.
Add these to the dal when it is half cooked. Heat 1 tbsp oil in another pan and fry onions till transparent. Add ginger and fry for some more time. Add chopped tomato and fry till oil separates. Add garam masala and add the mixture to the dal paneer. Simmer for some more time. Garnish with chopped coriander and serve hot with roti.
Cheese cones
Ingredients:
Maida 150 gm
Butter 50 gm
Cheese 50 gm
Milk ½ cup
Baking powder ½ tsp
Salt ½ tsp
Pepper ½ tsp
Method:Sift flour, baking powder and salt twice. Rub in the butter till flour looks like bread crubs. Add grated cheese and knead to get a soft dough by adding enough milk.
Roll the dough into two rounds of half inch thickness (dust two sheets of butter paper with flour and keep the dough in them and roll with a rolling pin). Sprinkle pepper powder on top and cut into ½ inch wide strips. Roll these strips around greased metal cones or horns in a spiral form and press the ends firmly. Prepare all cones in this manner. Bake these for 15-20 minutes in hot oven. Remove metal homs after these are cool. These cones can be served plain or with a filling.
Variations: The strips can be twisted or braided to get different shapes. These can also be deep fried.