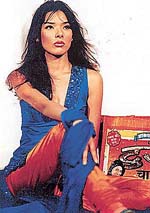 Designs echo her mood
Surprisingly enough, this wasn't really a part of the Fashion Week show. In fact, Beri had a separate show at the hippest restaurant in Mumbai, Athena. Titled Ritu Beri's Memories de Divas Collection, it was a different affair all right. Instead of a ramp, where models show off the best of the designer's collection, here a bevy of models wore Beri's clothes and moved around in the party. Beri herself made a very late entry at about 11 pm. Called an FTV party, it seemed a bit strange that it should have happened around this time. Only recently, Ritu had said in an exclusive interview that she was staying out of the show due to a prior appointment. Did that mean that by not participating, keeping away and doing her own stuff was away of showing that she no longer had to be part of a herd?
But some of the big names participated with full gusto. Like Tarun Tahiliani. Rohit Bal. Manish
Malhotra. Sangeeta Chopra. Krishna Mehta. Ritu Kumar. Rocky S. Last year, the ramp boasted of several international models and it may also be recalled that a couple of them created quite a ruckus with their no-bra look, but this year, the ramp show looked ike a dry run. Several Indian models decided to stay away from the show because they felt that the discounted charges that the organisers wanted from them was unfair. In fact Madhu Sapre, the tall, athletic supermodel had even said that it was ridiculous to expect this from them. Later of course she retracted this statement and came up with a formal rebuttal. "I never said the whole business of the FDCI or the Lakme India Fashion Week is to exploit models. I am deeply disturbed and upset with the quotes attributed to me." But the controversies regarding the models seemed to overshadow the event even before it started. Finally, a couple of days before the D-day, the organisation issued a formal statement. The excerpts read like this: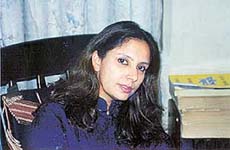 Leena Tipnis with her creation
"There are sections of the media that have reported that models Noyonika Chatterjee, John Abraham and Kelly Dorji were unwilling to participate in Lakme India Fashion Week 2001. The fact is that neither of the above mentioned were on the FDCI model target list. Others like Dino Morea and Bipasha Basu that were approached, declined, due to a prior overseas shoot commitment, whilst others were not comfortable with the fees offered. This was their individual decision and we respect it. Per international practice, different models charge different fees. Models for Lakme India Fashion Week are contracted for a fee, as are other key groups e.g. choreographers, hair/make-up artists, light designer, sound specialist, set designer, security company, etc. to work for the event. Models, per the norm, charge on a per show basis. Normally, in one-off designer shows, models are required for a full day of fittings, a full day of rehearsals, and then for the show itself i.e. three full days. At Lakme India Fashion Week, models were only required to attend fittings and the main shows.
There were no lengthy model rehearsals. With 27 shows scheduled to take place over seven days, the organisers had specified a competitive fee structure for models for a multiple package of shows during the week, with a minimum guarantee of shows. Model fees were the single largest expenditure of Lakme India Fashion Week. All sponsorship monies were invested in organising and managing what today is the country's largest fashion trade event. Whereas, designer participation fees are invested back into the FDCI corpus, which, as per their mandate, is invested back into the industry through research and feasibility studies of the Indian fashion industry, other events, etc., and the functioning of the not-for-profit council, that was formed to represent and promote the business interests of the Indian fashion industry. We do believe that Lakme India Fashion Week offers in addition to established individuals, younger talent in the industry, be it upcoming designers or models, the best launch platform with national visibility."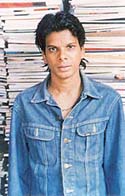 Savio Jon uses varied materials
Whew…now isn't that completely comprehensive? But that said and out of the way, it appeared that the events would all now fall into line and go off smoothly. It did on the first day. Ritu Kumar exhibited her clothes-a collection far removed from the zardozi and lovely prints that she is known for her. This was called "Say no to Toosh" as in Shahtoosh shawls and is part of her campaign against the usage of this material from the endangered species. There was also a display of her gorgeous Ikat in black and white used for western clothes.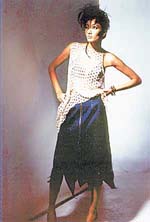 The other designer of the day was Savio Jon. Talk of outrageous stuff. His clothes were slashed, frayed. And he uses material that are as varied as lycra and leather. What's more his clothes had names" Like how? Like this: "Porn Star", "Elvis", "Punk", "Public Enemy." Yeesh? Our thoughts exactly. On August 8, the highlight was Malini Ramani. Bina Ramani's daughter, who hit the headlines last year by wearing a dress made out of the Indian national flag that brought the moral police, the BBC and Newsweek at her doorstep, is back again this year. According to Malini, "My collection is an extension of my mood at this point in my life." And just what is her mood? A 'glamorous, fairy tale…' Sarees and kurtas that are a flashback of the flower child days with Indian embroidery, denim with paint, beads, crystals and leather trimmings." She calls it the "Rockstar-meets-Indian Princess" look. Whether this look will go down well with the buyers and viewers, is something we could not gauge right away.
The designers to look forward to in the coming days are Lina Tipnis, Tarun Tahiliani, Krishna Mehta, Rina Dhaka and ,of course, Manish Malhotra. The most awaited of these is of course Manish, the man most sought after by everyone from an Urmilla Matondkar to a hip, hop happening Mumbai socialite. But what was a little baffling is just what Manish was planning to exhibit at the show. After all, he had just had a show at the Sheetal Design Studio only a few weeks back. The collection was titled Enchanted Ensemble and it was a rhapsody in pastels. This ready-to- wear collection will be available at the Sheetal Design Studio outlets in Bombay and is supposedly affordable by the high middle income group. Still, it was definitely an event to watch specially since his collection was a part of the Grand Finale, along with those of Rohit Bal and Rina Dhaka.
(INFS)