Anyone seen Anupam?
Tinseltown is a worried lot. Know why? Because there hasn't been a pep or whimper out of Anupam Kher for the past couple of months. And that, dear readers, is far too long a time for Anupam to go crack(l)ing with some new controversy or the other, y'see!
So, inevitably (and quite understandably) Bollywood is terribly tensed up right now. I mean, who can tell what new bombshell our man has in store... or, more likely, up his white "kurta" long sleeve, hey? However, according to an industry insider, Kher is laying low for now because he's preparing to unleash a Hollywood shock on (an unsuspecting) Bollywood! Yeah, seems like he's gone and got himself a role of a lifetime in one of Tom Cruise's new films — playing both a comic as well as the (surprise) villain!
Er... shall we wait and watch? Coz with an actor like Anupam Kher, you can just never tell....
(Un)holy alliance?
Now that Akshaye Khanna is said to be making "a sensational comeback", there are umpteen film-makers and heroines who're trying to queue up to make pacts 'n' deals with this chip of the old block. Hardly surprising because that's how showbiz works (or unworks, if you prefer the term).
At the same time, the buzz is that he's lining up for marriage with a young cutie from Chennai! The two are reportedly in love madly and it's only resistance (read a big, fat "NO!") from the teenaged heroine's parents side that is delaying this (un)holy alliance. But, when it comes to the Khannas or the Khans, such protestations are merely straws in the wind. For, whatever these heroes want to do, nothing can stand in the way of their maha machismo!
Well, meanwhile, all we can do is hope for the best.
Too young, too soon?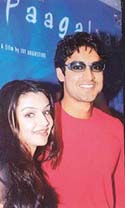 Sheer madness ?...
Karan Nath and Aarti in Paagalpan
Honestly, I'm flummoxed no end at the 'rush' displayed by Rikku Rakeshnath to launch his son, Karan, into the movies...without really weighing the pros 'n' cons of his debut starrer — Paagalpan! No, not Riks' own, home production by a long shot (it has been produced by one Ravi Dodi and directed by Joy Augustine), but an experienced 'filmi' guy like RR should've known better than to abandon his offspring to the Tinseltown wolves, right guys?
Not surprisingly, the film — with a 'mad' title like Paagalpan bombed at the box office. No doubt, the new leading lady, Aarti Agarwal, tried her best to woo cinegoers with her wiles and revealing body language, but it was simply impossible for Karan to sustain the story .
He has a few films in the pipeline and I do sincerely hope he would've learnt to swim with the tide by the time those are released. In the meantime, Rikku needs to take a crash course in marketing newcomers successfully. As Madhuri Dixit's secretary, all he had to do was sit back smugly and keep on counting the cash flowin' in... without him having to even lift a (bejewelled) finger....!