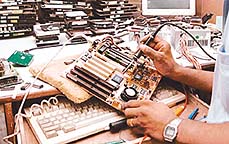 Incidentally, there is hardly any mechanism by which one can determine if a device is in the safe hands. The best bet however is the manufacturersí own repair centre. But such centres are not always present at every place. Even if they are, manufacturing companies charge exorbitant prices for small repairs. The next best option then, however, is to try out one of the local repair shops.
What is then the best way to select the right place to get your computer components fixed? Well, there is no definite way to be sure. At the best one can go by the reputation of a repair centre in the market. There are scores of persons claiming to be experts, but investigations reveal that there are barely a few who can actually do chip-level repairs. In most cases, when a motherboard goes bad, the problem lies in corrupt BIOS due to the invasion from a computer virus. It is rare that there is a physical damage to a computer motherboard, especially when a UPS/ CVT and spike suppressors protect it.
Vincent Joseph, who conducts chip-level repair at ComPro and is an ex-IAF personnel trained in Moscow in the maintenance of radar and computers in root navigation for aircrafts says, "the chances of complete repair depends from component to component, like for example in case of a motherboard, there is a near 95 per cent probability of repair, while it may be less for some other component". He says that it makes a lot of sense getting some products like a motherboard or printer repaired, while it may be better to replace a faulty floppy drive or a CD ROM drive, where the repair would cost nearly half the price of a new product.
According to Vincent, some peripherals like printers, etc are bound to require repair and maintenance due to their consumable nature. CD ROM lens gets used up, as does the flat cables in a printer. Monitors are invariably damaged when they are used in a hot environment or covered, preventing ventilation. "It surely makes a lot of sense to get a item like a printer repaired at one tenth the cost of a new machine", he says.
It is almost certain that all electromechanical devices would go bad at some stage of their lives. This is due to the wear and tear to components like the head cables, bushes, etc. While, in the case of non-electro-mechanical devices, the Bald Grid Arrays (BGA) have replaced the earlier Surface Mounted Devices (SMDs), which prove to be more reliable and have a failure rate of less than 10 per cent. On a motherboard, one of the most frequently burnt out component is the I / O port chip that leads to a failure of the serial and parallel communication ports and even the keyboard controller. This happens due to bad handling on part of the consumer. Though, earlier such a fault rendered the motherboard useless, but now the chip can easily be repaired.
With the ATX power supplies coming into common use, there is hardly any problem associated with the fluctuation of power, says Vincent.
Names like Vincent Joseph in Sector 17 and Surinder Singh in Sector 35 have come to be associated with serious hardware fault finding in the computing world. There are several other names like Om Computers, Hi Tech Computers, Mahajanís, Data Spec, etc who are now recognised in the city as centres for repair. Most companies like Samsung, LG, Creative, etc have their own repair centres too. Repairs of peripherals like the monitors and printers are most common and are undertaken at scores of places, while more serious repair of items like motherboards, etc are done only at a few places.
So, next time you are in trouble, just donít get conned by your PC assembler into replacing your computer components. Ask if the item can be repaired. Even better if you can bypass the assembler and approach a repair centre directly.
Average service charges with replacement of minor parts at various repair centres is as follows:
Motherboards
1. 810/815/820 500/-
2 .LX/ZX/BZ 400/-
3. PI FX/VX 350/-
4. 486 DX2/DX4 200/-
Drives
1. CD ROM drives 200/-
2. Hard Disks 300/-
3. DVD/CD writers 400/-
4. DAT/CTD 500/-
5. 1.44 FDD 100/-
6. Zip drive 300/-
Printers
1. 80 COL / 132 COL 9 PIN 300/-
2. 80 COL / 132 COL 24 PIN 300/-
3. DJ/BJ printer 300/-
4. LASERJET 500/-
5. 9PIN PRINT HEAD 400/-
6. 24 PIN PRINT HEAD 800/-
7. PRINTER POWER SUPPLY 350/-
Power supplies
1. AT power supply 150/-
2. ATX power supply 200/-
3. Intelligent ATX 500/-
4. UPS upto 625 VA (offline) 300/