Jammu, August 20
Security arrangements were further strengthened at the Jammu airport following elimination of two hardcore militants by the police in a swift operation here today.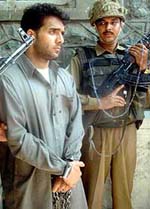 A self-styled district commander of the Jammu and Kashmir Islamic Front, who was arrested by the BSF in downtown Srinagar. The militant, assigned the job of reviving the outfit and recruiting fresh boys, was presented before media persons on Monday. — PTI photo


According to Mr R.S. Charak, SHO Satwari, who headed the police team, the two militants had plans to attack the Jammu airport. On receipt of information, a police team was rushed to the Nikki Tawi area, 4 km from the airport. As it neared the hideout, it came under fire.

Mr Charak said the police retaliated and killed both militants (one identified as Abu Mir of Pakistan) on the spot. Assault rifles and ammunition were recovered from the slain militants.

Official sources said additional forces had been deployed around the airport and all roads leading to the airport placed under surveillance.

Meanwhile, senior Army authorities stated that more than 1200 militants equipped with sophisticated weapons had been moved close to the border across Poonch, Rajouri and Akhnoor sectors by Pakistani agencies for being pushed into Jammu.

According to these authorities, 250 rebels had been kept at 12 launching pads which were at a stone's throw from Zero Line. Pakistani troops had been directed to provide fire cover to the rebels so that they were able to infiltrate into the Jammu region.

The authorities said the Indian forces had been kept on the maximum alert. During the past 12 hours there had been no heavy firing or shelling on this side of the LoC. However, at a couple of places Pakistani soldiers had resorted to small arms fire.

Police sources said reports from across the border revealed that militants operating in Jammu and Kashmir had been directed to strike at crowded places, including airports, railway stations, bus stands and shopping centres.

Three militants of the Hizbul Mujahideen were killed by the security forces during an encounter in Kalimashi area of Gool tehsil in Udhampur district yesterday. Three AK rifles and a large quantity of ammunition and

explosives were recovered from them.

In another incident, an alert Army patrol foiled an attempt by a militant to plant an IED in the forward area of Noushera Sector of Rajouri district last evening.

The militant was challenged by the patrol party and shot.

Meanwhile, Pakistan has not claimed the bodies of three of the intruders clad in combat dress. They were killed during an intrusion bid in Poonch Sector on August 18.

The Border Security Force (BSF) apprehended Waqar Ahmad Mir alias Abid, a district commander of the Islamic Front, in a raid in Srinagar last evening and recovered a pistol, a magazine and eight rounds from his possession.

The arrest was made on specific information about the presence of militants in Nawakadal area of the city yesterday. Another activist of the Islamic Front was held late last month, DIG R.P. Singh said.

According to the DIG, the Islamic Front was being reactivated with the recruitment of released or surrendered militants in Kashmir. Waqar Ahmad Mir, alias Abid, had returned from Pakistan recently and was given the task of reactivating the cadres with instructions from Bilal Beigh, a top militant leader, now based in Pakistan.

There were many modules comprising four or five militants of the outfit active in Srinagar. Abid was earlier associated with Tehreek-e-Jehadi Islami and was jailed. He was involved in many militancy-related incidents, including attacks on security forces, hurling of grenades and killing of Ali Mohammad here.

Two unidentified militants were killed in an encounter with the forces at Nagrimalpora in Kupwara district today.

An unidentified militant was killed in an encounter at Machil in Kupwara district yesterday. An AK rifle, four magazines and some ammunition were recovered from the site of the encounter.

Unidentified militants shot dead a 16-year-old boy, Ghulam Hassan, in Kriri area of Baramula district last evening.

Meanwhile, the Army arrested 14 teenaged boys and a guide during specific operations launched following information that militants were being taken for arms training.

The boys were arrested from Kalaroos in Kupwara, Fatehgard near Sheeri in Baramula and Mansbal on the outskirts of Srinagar, sources said, adding they were handed over to the local police. Two kg of explosives, a hand grenade and some detonators had been seized from them.