M A I N N E W S
11 dead as tempo hits train
It's unmanned crossing yet again
Varinder Walia
Tribune News Service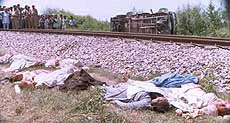 Bodies lie at the accident site

at Bariar village, near Gurdaspur. — PTI photo

Bariar (Gurdaspur), August 23
A pall of gloom descended on one of the most developed villages of Majha region here as 11 persons, including six women, died when their ill-fated diesel tempo collided with Ravi Express at an unmanned railway crossing today. The site is known as a 'killer crossing' as at least 10 accidents have occurred here in the past one year.
The deceased were on their way to attend the 'makaan' (mourning) of one of their close relatives at the nearby Nawan Jhawar village. While nine persons died on the spot, two died on their way to hospital. Senior officers, including Mr Sukhdev Singh, Senior Superintendent of Police, Mr D.S. Dhindsa, SP (Operations) and Mr Atma Singh Bhullar, SHO, Sadar, rushed to the site on hearing news about the accident.
Notwithstanding resolutions to higher railways authorities by a cluster of villages, to man the 'killer railway crossing,' nothing has been done and many precious lives have been lost. The crossing is a few yards from Grand Trunk Road on which is located prestigious institutes like Beant Engineering College, a gurdwara and a high school. As a result, the road remains extremely busy.
The only survivor, Manjit Kaur, has been admitted to Civil Hospital with multiple fractures. She is in serious condition.
Those who died on the spot included Ashwani Kumar, driver of the tempo (number PB-06 7092), and his father Hans Raj, Balbir Singh and Sukhwinder Kaur, Mohan Singh and Chain Kaur, both couples, Sukhwinder Kaur, Parmjit Kaur, Amarjit Kaur, Swarn Kaur and Harsimran Kaur.
The villagers alleged that they had met the Deputy Commissioner and other senior officers for manning the railway crossing, but in vain. They alleged that senior Railway officials who visited the village in connection with previous accidents had assured the villagers that the crossing could be manned if the state government would bear the cost.
According to eyewitnesses, the train which was running at high speed, dragged the tempo up to 500 yards. The bodies had to be extracted from the tempo by villagers with great difficult who assembled there within no time. The scene of the accident presented a ghastly look. The accident occurred when the driver of the tempo tried to cross over to G.T. Road. However, the vehicle got held up due to the faulty design of the slope of the unmanned crossing. Mr Sucha Singh Chhotepur, a former Akali minister, blamed the mishap on apathy by the local administration and the Railways.
The bodies have been handed over to the relatives of the deceased persons.
Punjab Chief Minister Parkash Singh Badal has expressed grief over the loss of lives in the accident.