Handling favouritism at work
Fiona McNeill
FOR many people, the realisation that favouritism exists starts in the playground, the moment they learn that getting picked for the basketball team has little to do with sporting ability and everything to do with being friends with the captain.
Favouritism exists in adult life, too, as Helen discovered when she took a secretarial job with a property company. It wasn't a busy office, but there was enough to keep her occupied. Then a new secretary arrived. She was almost of her age and had similar qualifications, but she started getting all the work, leaving Helen twiddling her thumbs. "I felt like I'd done something wrong," Helen explains. "I had nothing to do and I wasn't happy with the way I'd been treated, so I asked the agency to find me another job."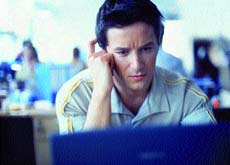 But before she left, she asked a colleague why it had happened. He explained that the company had decided it could only afford to keep one secretary. They knew Helen would be going on maternity leave in a couple of months, whereas the new secretary was staying indefinitely. It made sense, therefore, to keep her happy and give her the work. Agreed, it was not the best way for Helen to be treated but again it was not such an ego-shattering blow that she felt she had received.
That's the problem with favouritism at work. Although the term suggests that someone is being singled out unfairly for special treatment, it's rarely that straightforward, says occupational psychologist Dai Williams. "If you think there's favouritism where you work, stop and ask yourself why it's a problem," he says. "Is it interfering with your work, or are you just jealous? Is anyone else in the office bothered? Check your facts before you launch into an attack. There may be information you don't know about."
It may be that the person you perceive as the office favourite is simply being rewarded for a job well done, says Catherine Fleming of Career Psychology. "Perhaps that person has been seen to be working hard and is reaping the benefits. You might have to admit that they've done better than you. In some ways, it's healthy to work in an atmosphere where people's efforts are acknowledged," she says.
Williams agrees. "Successful managers identify and encourage talent in key employees," he explains, "and it's important for individuals, especially younger employees, to find a senior person with whom they have a rapport, who can give them encouragement in their career. It's also natural to gravitate towards people you get on with. It becomes a problem if other staff members feel forgotten about. Managers need to recognise and value the different abilities of all the people in their department." It's also worth remembering that being the office favourite can have its downside. The person may have to endure snotty remarks from jealous colleagues or feel isolated by their success. Doing well may mean extra work or responsibility and they may not be able to cope with the pressure. Most importantly, they could be receiving the wrong kind of attention, as Williams says: "I've seen cases where secretaries have received unwanted favours and gifts from their bosses. They don't want to cause offence but they don't know what to do. It's sexual harassment." And if one day you find yourself the favoured employee, be sensitive to how your less-fortunate colleagues are feeling and down-play your success. "Don't jump up and down if, for example, you get the chance to go abroad on a business trip," Fleming cautions. "Tell people you're pleased but that it will be very tiring and it will eat into your weekend. You don't have to tell them about all the perks.
(Guardian News Service)

Feel youíre treated unfairly? Get a new job
Lynne Curry-Swann
Question: My husband and I both face similar work situation ó employers who take advantage of us. His situation is worse: Heís is his 40s, enormously talented, and works for a small business. Because heís changed careers, his new employer forced him to accept an entry-level salary. His owner makes him work long hours and doesnít pay him what heís worth.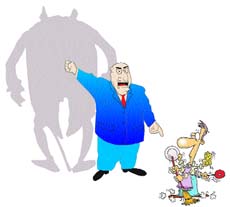 I work part time. At first I liked my employer, but recently Iíve decided heís not fair to me, either. My salary isnít enough for the ability I have. When I started this job, two months ago, my employer said that Iíd be paid a certain amount. While heís given me a raise to the top of the salary range he initially offered, Iím worth a lot more money per hour.
Iíve told him Iíll either need to get more money per hour or to work fewer hours for the salary. He said that while I am a fine employee, I am slow. His view is that we agreed on a certain amount of salary for a certain number of hours per month, and thatwhat heís paying. He claims I could work fewer hours if Iíd learn to work faster, and that while his business can afford a higher salary for my position, his pay is adequate given what other employers pay for part-time employees.
Iím upset that heís not willing to reduce the workload to a reasonable amount for the salary heís giving me. The simple truth is that I needed a job when I took this one, but like my husband, Iím worth more than my employer pays. What do you suggest?
Answer: Let me get this straight. Youíre in your third month of a job, youíve already got a raise, and you donít believe your employer is fair. Your husbandís in a new career field, and he doesnít think his employer is fair.
I donít understand. Whatís keeping you both in jobs in which youíre unhappy?Youíre not doing either yourself or your employers any good.
If your husband is enormously talented and underpaid, he owes it to himself to find a job in which heíll be paid what heís worth. If youíre working for a lower hourly salary than youíre worth, maybe you should brush off your resume and look for a new job.
Still, Iíve got this nagging feeling the problem may not be your employers. Consider this: Maybe you and your husband feed on each otherís unhappiness. No job is perfect. No job can be measured purely on the basis of salary per hour. Perhaps your husband is paying his dues in a new career field, and a year from now his salary will increase substantially. Perhaps your income is lower than it could be because youíre working part time or because youíre not listening when your employer suggests you speed up your work methods. Maybe you could reread your own letter. You imply that both you and your husband are in bondage to unfair employers. While some employers are unfair and sometimes jobs are hard to come by ó and thus old jobs are hard to leave ó we live in a free market. If youíre not paid enough and could get more elsewhere, leave. Meanwhile, give your employers a break. Listen to what your employer says. Maybe you could speed up. Maybe your husbandís employer pays your husband all he is worth to that company. Focus on whatís right in your jobs, and do a good job in the jobs you have until you can find more rewarding positions.
(AF)