Good music for good teeth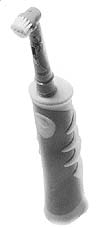 Canít get your kids to brush their teeth? Maybe a little mood music will help. Braun Oral Bís Kidís Power Toothbrush randomly plays digital tunes every 60 seconds via a built-in chip that converts the motorís electromagnetic movement to sound.
Your childís eagerness to hear "Tom Dooley," "Old McDonald," or one of 14 other tunes will hopefully get him or her to keep brushing. Throw in some glittery toothpaste and grape-flavored mouthwash and their oral hygiene issues may go away for good. Available for $ 40. www.braun.com Popular Science
Excreta of dinosaurs found
In a major discovery, scientists have found frozen remains of faecal (excreta) matter of prehistoric dinosaurs at Nand-Dongargaon at Pisdura near Nagpur in central India, a detailed study of which would now help in knowing their diet and metabolic process.
Dr Prasenjit Ghosh, a scientist at the Physical Research Laboratory (PRL) in Ahmedabad, told PTI today that the "excreta remains of dinosaurs were found by Geological Survey of India, Birbal Sahni Institute of Palaeobotany and PRL scientists last month from Nand-Dongargaon." Search for dinosaurs faecal matter was being done in areas and surroundings, where earlier their fossiled eggs and skeleton remains were found, he said.
"We have separated the organic materials from the coprolite (faecal) samples for carbon and nitrogen isotopes in order to get an idea about their diet and its type and metabolic process of digestion. Preliminary study has revealed that the species of dinosaurs were feeding on vegetation, specifically of C3 type (big trees like Neem and Papal) and their metabolic process was very similar to that of present day birds and reptiles," Dr Ghosh added.
Dr SK Bhattacharya, senior PRL scientist, who is guiding the study, said the investigated coprolites were poorly phosphatic, adding that the identity of producer of coprolites was based on circumstantial evidence showing a possible relationship between coprolites and their producers, dimensional and surface parameters, association of skeleton material and coprolite contents. PTI
Research launched on stem cells
The Department of Biotechnology (DBT) has launched three major programmes on stem cell research aimed at treating blindness and some types of brain disorders, and is hoping to allot "significant amount of funding" for this area of research in the 10th five year plan, a senior DBT official has said.
The LV Prasad Eye Institute in Hyderabad and the newly created National Brain Research Centre (NBRC) in New Delhi are among the beneficiaries of DBT funding. NK Vinayak, head of DBTís medical biotechnology division told PTI.
The availability of stem cells from legally aborted foetuses and unused embryos from test-tube baby clinics will help speed up research in this area, "that has great potential in future," Vinayak said.
The Indian Council of Medical Research guidelines allow use of aborted foetuses and less than 10-day old embryos in medical research. But transplantation of stem cells into humans is permitted only after animal trials when other forms of treatment are not available.
Doctors in test-tube baby clinics create several embryos and un-used embryos are flushed down the toilet. Vinayak said these could be put to use because embryonics cells are a rich source of stem cells, which, under proper conditions, have the ability to differentiate into tissues of choice.
According to Vinayak, technologies are now available to isolate, cultural, and maintain stem cells and also to modify these cells into specialised cell lines for transplantation purposes. "Industry is very much interested to collaborate in this work, Vinayak said. PTI