BSF officer among 6 killed
Girl dies in school bus blast, 13 hurt
Tribune News Service
Jammu, September 8
A senior BSF officer, Mr S.S. Dahya, from Haryana was among the six BSF jawans who were killed when their vehicle was smashed in an IED blast near Sangaldan area of Gool in Udhampur district today even as a schoolgirl died in another blast.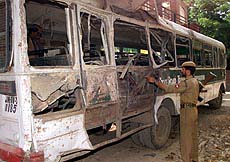 An Indian policeman assesses the damage to a civilian bus after a landmine explosion at Mattan, 65 km south of Srinagar, on Saturday. — Reuters photo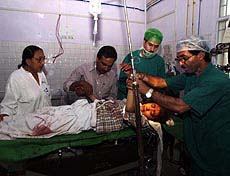 A schoolchild, one among 13 others injured when an IED hit their bus, being treated at a Srinagar hospital. — Photo Amin War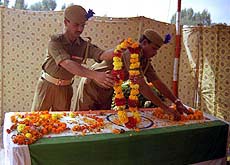 Central Reserve Police Force (CRPF) personnel paying homage in Srinagar on Saturday to two of their colleagues killed in separate incidents. An SI, T. Bhatacharya of 31 Bn, was killed by an IED on the Srinagar-Jammu highway and a jawan was killed in a suicide attack on a camp at Magam in Budgam district on Thursday evening. — Photo Amin War

According to the police, Mr Dahya was on routine patrol duty with 11 men to track down militants who were reported to be hiding in the area. As the vehicle reached near Sangaldan an IED, planted by the militants, went off and smashed the vehicle. Six BSF jawans, including Commandant Dahya, died on the spot and three others were wounded.
The police and paramilitary forces cordoned off the area and launched a manhunt for the killers. Reports said that Mr Dahya had played a key role in flushing out militants from the area and the militants had kept him on the top of the hit list.
In another incident, two soldiers were wounded while they were trying to defuse a powerful explosive planted near Chenani on the Jammu-Srinagar national highway this morning. The soldiers were part of road opening team.
According to BSF authorities, Mr Dahya hailed from Rohtak and said that all measures were afoot to bring the body from Sangaldan area.
SRINAGAR: A schoolgirl was killed and at least 13 others were injured when an IED detonated by suspected militants hit a bus carrying children from Srinagar to Pahalgam near Anantnag this morning. The incident follows a series of IED explosions across the Kashmir valley, particularly in south Kashmir during the past week.
According to the DIG Police, Anantnag-Pulwama range, Mr Ashok Gupta, the rear end of the State Road Transport Corporation (SRTC) bus was hit by the explosion at Paibugh near Mattan, about 5 km from Anantnag this morning. One girl died on the spot, while 13 others were injured, three of them seriously. The injured were admitted to SMHS hospital here.
A fleet of four buses carrying children of the Iqra Public School, Bemina, Srinagar, had left here this morning for a picnic trip to Pahalgam. The ill-fated bus was at the last end of the fleet, when suspected militants triggered the IED, police said.
On August 15 last, the Deputy Commissioner, Anantnag, had a miraculous escape, when suspected militants triggered an IED on the road near the location of today's explosion. The escort vehicle was partially damaged in the explosion.
The Deputy Commissioner, Anantnag, Mr G.A. Peer, accompanied by senior police officers visited the spot soon after the incident. He has advised all schools to avoid picnic trips to Pahalgam.
Meanwhile, security forces detected an IED planted by suspected militants at Chechlora on the Srinagar-Gulmarg road today. The IED was neutralised without causing any damage.
Unidentified militants fired two rifle grenades towards a security force party at Baramulla today. One of these exploded in air without causing any damage while the unexploded grenade was defused by the bomb disposal squad, the police here said.
Unidentified militants shot dead a shopkeeper, Haji Ghulam Rasool Lone, at Ganderbal, about 25 km from here.