Monday, September 10, 2001
IT Bookshelf
Computer primer for Punjab Board students
Review by Roopinder Singh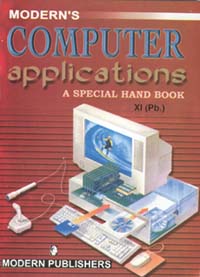 Modernís Computer Applications: A special hand book XI (Pb)
By Parminder Kaur and Poonam Singh, Modern Publishers, Jalandhar. Pages 186. Rs 100.
NOW that every school child is required to study computers, it would be only logical to have a text book that covers prescribed syllabus. The book under review has been specifically written for the Punjab School Education Board Class XI syllabus.
Written by Parminder Kaur who heads the Department of Computer Science and Applications at BD Arya Girls College, Jalandhar Cantonment, and Poonam Singh, Director, Lalvani Institute of Technology, Kapurthala, the recently published book gives an overview of the Internet and explains its concept, working. Various organisations connected with the Internet have been discussed and the book even has a feature on how the Internet can enhance your business, though one wonders why school children need this information.
The next chapter has a specific focus on various operating systems, including basic PC OS, MS-DOS, which is the basis of Windows computers that most of the readers use.