M A I N N E W S
Matter of pride, says Mira Nair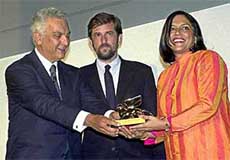 President of the Biennale Paolo Baratta hands the Golden Lion for the best film to Indian director Mira Nair for her "Monsoon Wedding" at the 58th Venice film festival in the Venice Lido, northern Italy, on Saturday. In the background is Italian film director Nanni Moretti.
— AP/PTI photo
New Delhi, September 9
"It's unbelievable," said an ecstatic director Mira Nair summing up her feelings on her latest venture "Monsoon Wedding," a story detailing the drama of Punjabi marriage," winning the prestigious Golden Lion award at the Venice Film Festival yesterday.
"It has not yet sunk in. It is a matter of great pride for the country and for me and my entire team which made the film," said Nair who is the first woman director to win the coveted honour.
The maker of films like "Salaam Bombay" and "Kamasutra," Nair said she got the idea of "Mosoon Wedding", along with its story writer Sabrina Dhawan, from sequences of Punjabi wedding shown in various Hindi films.
She said there had been no movie made on Punjabi marriage.
President K.R. Narayanan has congratulated the director. PTI