Rural salvation: profile in self-help
Dr M.L. Kataria
THIS is an inspiring story of a group of 10 small villages and hamlets tucked in the Shivalik foothills, in prosperous Punjab's Ropar district, comprising a population of about 20,000 — Perch, Chhoti Perch, Bari Seonk, Chhoti Seonk, Majri, Singhari Ala, Gura Karauli, Karaondiwala, Baghindi and Nada — names not easy to remember.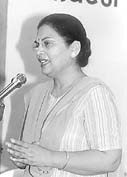 Bibi Harpreet Kaur Bhullar who donated Rs 1 lakh
Most of these, it seems, have seldom been visited by a person other than a patwari or a tehsildar, let aside a BDO, a DC, anMLA or a Deputy Minister!
Surprisingly, they have no government dispensary, what to say of a primary health centre. The ayurvedic dispensary there has not many medicines, and no regular Ayurvedacharya.
We came to know of the medical step-motherliness when, on the publication of a news item in The Tribune, we went there for organising a medical aid camp during the floods last year.
We were impressed to discover that the sarpanch and the panchayat had guts and the Punjabi rural hoi-polloi had the will to work. They were also lavishly hospitable with tea (made in milk) and rural snacks, never mind the ravages wrought by the floods.
We were moved to offer them a permanent regular Primary Health Care Centre if they could give us a four-room complex for a dispensary, a laboratory, an x-ray and ECG machines and a room for the doctor to see the patients. They were so overwhelmed by this unbelievable offer that they unanimously agreed to build a four-room complex.
The only two available tractors were commissioned to level the panchayat mound. A senior village mason volunteered to work as an architect-cum-engineer, the young and the old together did "kar-seva", panchayat trees were sold off to raise funds, every household contributed to the common kitty, and, lo and behold, within a few months, a four-room pucca rural health care complex came up as a landmark of pride for one and all.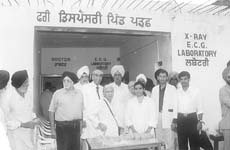 The Perch rural dispensary
At 8 a.m. on a rainy August morning, there was a loud ring of the call bell, like an alarm. As I came out, expecting a needy patient in distress, to my utter surprise, I saw the sarpanch and his entire panchayat mounted on a tractor trailer combine, all greeting me with a triumphant grin.
"Doctor Sahib, the four-room complex is ready. It is now your turn to fulfil your promise". It sounded like a clarion call and a challenge from the sarpanch. They "conscripted" me to the site, but in a Maruti taxi specially hired for me!
A white structure with a boundary wall (to keep out cattle) stood in contrast to the heaps of cowdung, stagnant open drains and kutcha tracks winding through the narrow lanes into the otherwise vibrant village!
There was a moment of serene silence, due to silence, due to disgust about the development even after half a century of Independence, in this prime state of India. We could not give them even a dispensary!
"Where is the three-phase, 14 KW bijli for the x-ray and paani for the lab?"Iasked. "Surely, you can first start with only the dispensary", suggested a grey old grandma standing by in case no bijli and paani were provided by the sarkar for another six months. Her grassroot wisdom was irrefutable. "Bebe, you are right. We will first start the dispensary service during the first week of September", we promised. With a toothless grin, pleased, she walked her way, giving her blessings.
A few days later, when we went to stock the dispensary we mentioned to Sardar Bhag Singh, the sarpanch, that we would also try to bring a "Bhadra Purush" for the inauguration. But, the very next day he rang up to say that "nobody comes, nor do we want any Bara Saab for the inauguration".Instead, theirJathedar, who always stood by them, would perform the ceremony.
We had already passed around the feelers to our well-known donors, philanthropists and benevolent Senior Citizens for generous contributions.
On the third of September, 2001, after we offered prayers at the gurdwara, Jathedar Ujagar Singh Wadali inaugurated and blessed the dispensary amidst sky-rending echoes of "Bole So Nihal, Sat Sri Akal". Thus opened our 15th healthcare centre.
The most encouraging highlights of the ceremony were generous donations of Rs 1 lakh by Bibi Harpreet Kaur Bhullar, who owns a farm nearby for the x-ray plant, an ECGmachine (Rs 50,000) by Sardar Baljit Singh, Chief Executive of HSBaljit Electric Co. SAS Nagar, and three well qualified doctors who offered to give free service in rotation.
Now, when the Perch Free Health Care Centre has become a living reality, someone in the bijli and paani departments will surely expedite these facilities as well. Hats off to rural patience!
All panchayats should emulate Perch. Collective self-help never fails because God helps those who help themselves!
Brig (Dr) Kataria is well known to The Tribune readers as the "Saviour of the Slums". His address is 89, Sector 16-A, Chandigarh (Phone:547748)