Monday, September 17, 2001
IT Bookshelf
Has capitalism 'hijacked' the Internet?
Review by Peeyush Agnihotri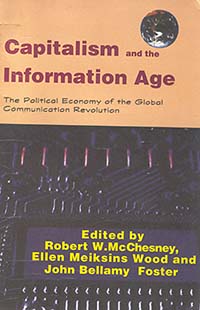 Capitalism and the Information Age
Edited by Robert W. McChesney, Ellen Meiksins Wood and John Bellamy Foster, Cornerstone Publications, India, and Monthly Review Press, New York. Pages 250, Rs 150.
NEW technologies are constantly transmitting information to millions of sites worldwide. This brave new reality is reshaping the labour force and market relations and seems to be altering the course of history.
This book is a compilation of 14 chapters written by various experts on how communications revolution is shaping up the political economy and altering history. "Of all the instruments of social control that capitalism has at its disposal, communication has steadily increased its usefulness — and indispensability — to the system," Hebert. I. Schiller from University of California says.
Heather Menzies, writer of one of the chapters, feels that capitalism's structures are being digitised; dematerialised from file folders into electronic bits in global communication networks. He feels that the idiom 'All that is solid melts into air' has never rung so true. In short, it's business as usual with a vengeance. Beneath the rhetoric of the information society and cowboy frontierism of Internet enthusiasts, the ideology of monopoly capitalism is being consolidated and hegemonised in various forms.