IN India, black is not beautiful. Despite rapid advances in education and exposure to western norms, the fetish for fairness continues to wreck marriages, cost people jobs, lower self-esteem and funnily enough, support and entire industry — from Barbie dolls to berry blue blush-on, fake eyelashes and beauty creams.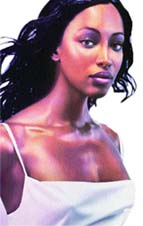 Everybody is anxious to remind you of the melanin in your skin. Every magazine, movie, shop window and television commercial is directed at making you continually dissatisfied with your present state. It isn't enough that you are in great shape and blessed with a wonderful skin texture. You need to be fair as well.
Proof of this obsession with complexion is evident from the six-billion-rupee fairness cream market growing at a phenomenal pace of 80 per cent every year. At least 30 new brands have hit the market since January this year for the benefit of those who passionately hung up on being light-skinned.
Says the dusky Diandra Soares, a well-known model, "I love my skin colour. While everybody in the West lazes in the sun for hours to get a tan, we are dying to be fair. If an international company like Maybelline can take a dark-skinned Indian model like Sheetal Malhar, why can't Indian companies?"
But Malhar isn't happy: "I have been discriminated against on the basis of my skin colour all the time. Several Indian cosmetic companies have approached me and the only issue there was, was my complexion. They would much prefer light-skinned models because Indians are dark and it's human to pine for what you don't have."
These models find the attitude "stupid", but are not offended. Rather, they are amused when the facial make-up for a shoot is so light that they've had to paint to paint their arms to match it. Air brushing and digital manipulation of pictures have become the order of the day for most advertisements.
"If I say that a bias doesn't exist towards dark-skinned models, I would be lying," says eminent make-up artist Mickey Contractor. "But then, why just models? Even when I dress up brides, they always want to look fairer. The perpetual demand of friends and family members is that the bride should look gori!"
A recent survey conducted by Hindustan Lever Limited revealed that almost 90 per cent of its consumers of cosmetics desired a skin-lightening product. Fairness creams are most popular (commanding 70 per cent of market share), followed by toilet soaps, sun blocks, talcum powder, bleaches and other such beauty aids.
Many manufacturers are also coming out with chemical concoctions like Oxy-G, which promise to reduce melanin pigment without altering the natural balance of the skin within a fixed time frame. From basic turmeric and pearl shimmer to electro-magnetic gold particles, the options for expelling the so-called skin-darkening toxins are endless.
Mumbai-based dermatologist Rekha Seth, however, believes that creams could have a "slight chance" of being effective (as they contain ingredients that protect the skin from ultra-violet radiation), other applications like soaps and powders are absolutely of no use.
"Indian skins are unique," declares Seth. "If we are exposed to sunlight for around 10 minutes, our skin will tan three to five times more than white or yellow skins. Creams contain sun block that cuts down the tanning giving the impression that the skin has grown fairer."
"The problem with Indians is that they cannot accept themselves as they are," says Freny Mahindra, who runs 30 call centres across India to help youth in distress. "Our youngsters feel that they cannot be attractive enough and in their struggle to attain physical perfection, they are left psychologically scarred."
This loss of self-esteem stems not so much from media projections as from parental prejudices. "Family members who have been mocked during their childhood, unknowingly jeer at their children," observes Mahindra. "It is a transference of their experience to the child."
Significantly, grandmothers constitute a major consumer segment for fairness products. "They may hide their cream and lotions, but sooner or later the rest of the household gets to know," remarks Seth. "The point is, we learn from our elders. What is the message we are sending to our youngsters?"
Clearly, the examples of ebony-hued beauties—from Cleopatra to Naomi Campbell or Razia Sultan to our Hema Malinis, Rekhas and Kajols—are of no consequence. As renowned model Madhu Sapre points out, the Indian ideal is the "typical fair round face with a wide-eyed look"! MF