Blackwill visits Bangla Sahib
Expresses solidarity with Sikhs
Tribune News Service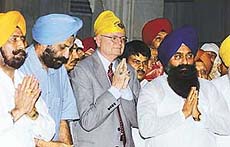 US Ambassador to India Robert D. Blackwill prays in Delhi's Gurdwara Bangla Sahib on Wednesday. Mr Blackwill prayed for communal harmony after Sikhs and members of other minority communities were being targeted in apparent retaliation for the terrorist attacks in the USA . — Reuters photo

New Delhi, September 19
The USA is "more than satisfied" with the response of Indian government in the aftermath of the September 11 terrorist attacks in New York and Washington.
US Ambassador to India Robert D. Blackwill said here today that "very, very close consultations" had been held with key functionaries in the government and he had met leaders of major opposition parties also in the past week. India had made it clear along with several other countries to fully contribute in the endeavour to stamp out terrorism, Mr Blackwill said.
The US Ambassador, who came to Gurdwara Bangla Sahib to express solidarity with the Sikhs, some of whom had to face ethnic violence in parts of the USA after the September 11 terrorist strike, said the US President had made it clear that the government would not tolerate violence against any ethnic group, including the Sikhs. These were federal crimes and the culprits would be prosecuted according to law, the Ambassador said. Recalling his meeting with a World War II veteran on the gurdwara premises, Mr Blackwill said it was a striking evidence of the Sikhs having always fought for right causes.
To reflect the US commitment to strictly deal with those indulging in violence, Mr Blackwill read a statement by Mr Richard M. Romley, Attorney of Maricopa County where Mr Balbir Singh Sodhi, an NRI, was murdered.
"On Tuesday, September 11, America was attacked. On Saturday, September 15, America was again attacked, not by foreign terrorists but by an American citizen. The attack resulting in the brutal murder of Balbir Singh Sodhi was an attack upon America's most fundamental freedoms... Mr Sodhi was killed for no other reason than because he was dark skinned, bearded and wore a turban. He was killed beacuse of hate. We Americans must stand together as one in our resolve to hold accountable those who commit crimes that shame our nation. Mr Frank Silva Roque will bear the brunt of lawfully,'' Mr Blackwill quoted Mr Romley as having said.
Earlier, the US Ambassador paid his obeisance at the gurdwara and was presented "siropas". He also held a meeting with prominent Sikh leaders.
Referring to the apprehensions in the minds of Sikhs about the reports of ethnic violence in some Western countries, Mr Tarlochan Singh, Vice-Chairman of the Minorities Commission, said the US Government should use television and other media to educate its citizens about Sikhs sporting beard and turban because of their faith. He said that Sikhs, whose population in the USA has grown to half a million in the past 80 years, had always stood by that country.
Thanking the US Ambassador, Union Minister of Food and Chemicals Mr Sukhdev Singh Dhindsa said Sikhs were united in their fight against terrorism. Members of the Delhi Sikh Gurdwara Management Committee gave a memorandum addressed to the US President calling for steps for the protection of Sikhs.