The reasons for Manesar's popularity are not hard to find. "It is located on the main Jaipur-Delhi highway and is extremely well-connected to Delhi. The international airport is just 32 km away, while Connaught Place is 45 km. It takes about an hour and a half to reach Connaught Place," says Harbaksh Singh, managing director, Haryana State Industrial Development Corporation (HSIDC). "Besides the location, the other attractive feature of Manesar is that it has the best infrastructure and is far ahead of other industrial townships in this respect. Any investor who comes to visit the site is impressed with the systems that have been put in place. Unlike other state corporations, which give the work of developing infrastructure to their own government bodies, we floated global tenders for everything. The best names in the industry bid for them and as a result what we have today is world class infrastructure."


The office of an industrial unit at Manesar
Manesar is indeed a city in the making. Ever since the HSIDC took over the project in June, 1997, work has been going on at a furious pace. The infrastructure is in place and operational and internationally known companies like Honda Scooters and Motorcycles, Denso, Norcool, Mitsubishi Electricals, Videocon, Motorola, Johnson Matthey (India) Pvt Ltd, Baxter India and the prestigious Automobile Research Association of India have already commenced their operations here.
The well-laid-out roads (minimum width — 15 metres), sewerage treatment and disposal plant, state of the art power house and water supply systems with elegant production house buildings and landscaped gardens are not only a visual treat but also a reflection on the careful planning that has gone into crafting a township out of the nearly barren foothills of the Aravalli. In fact, the first small hillocks crested with an ancient temple rising at the end of the flat expanse of land gives it a picturesque look. "We are undertaking a major exercise in making Manesar as green as possible. Over 40 different varieties of tree saplings have been selected for plantation here and most of the plantation work is near completion. It will truly be a green industrial estate," say HSIDC General Manager, R.N.Malik. "Besides," he says, "We have provided for a 50-metre-wide green belt on both sides of the national highway and it will act as the lungs of this industrial city."
The IMT, Manesar, basically follows the plan which was laid down by the Japanese whose expertise was sought by the Government of India way back in 1989. The 18th Japan Study Committee meeting hosted by India in March,1989, recommended the establishment of industrial zones that would be on a par with international standards. The group felt that such zones would encourage direct foreign investment in India.
A formal request to conduct a study on the feasibility of such zones was made to the Japanese Government in 1991 by India. Thereafter, the Japan International Cooperation Agency (JAICA) conducted a project identification study in October, 1991, and a project formation study in 1992. Four candidate sites were surveyed under this study. They included Noida, Gurgaon, Bidadi and Sathnur (both near Bangalore). Gurgaon was chosen as the site for the development of India's first modern industrial township with Japanese collaboration because of its unique location and its administrative and political climate,says Jeevan Bhardwaj, General Manager, HSIDC.
However, the Japanese decided to pull out of the project because of wranglings with the state government over compensation to be paid to those whose land was being acquired. The Haryana government then asked its industrial development corporation to step in and proceed with the development of the industrial township.
About 1750 acres of land has been fully developed and allotment of sites has been done with a view to catering to a wide spectrum of target segments. There are separate zones having a distinct focus on various industry sectors such as high-technology units, high-precision units and non-polluting units. Each zone has been built around specific anchor tenants—some of which already exist in the vicinity of Manesar. For example, priority has been given to units that are ancillary suppliers to Gurgaon's biggest factory, the Maruti Udyog, says Bhardwaj.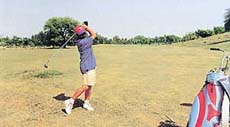 A nine-hole golf course in Manesar
The plot mix has small and large sizes within each zone and they have been designed for mother units, ancillary units and sub-ancillary units. A cluster-planning approach has been adopted. Furthermore, short-listed industries, including auto and auto components, high-precision industries, textiles, pharmaceuticals, software and white goods, form the core segment for the IMT and the basic internal infrastructure has been customised for them. "However, the principle of focus without exclusivity has been followed and other industries that conform to the internal infrastructure design specifications are also being encouraged," says Dr Harbaksh Singh.
Despite its primary function as an industrial township, the IMT is in the process of providing all city facilities. A nine-course golf course with a club house is near completion. A helipad will be located near it to facilitate quick transfer of top company executives. Besides other recreational facilities for the the workforce are in the process of completion.
The other unique aspect of Manesar is the simultaneous development of residential complexes for both executive and non-executive staff. The HSIDC acquired 250 acres across the national highway and has allotted it to various units for building staff quarters there. The residential complex will be connected to the industrial sector via an overbridge to avoid congestion on the highway. The residential complex will have all the basic facilities of a mini city.
"When the IMT, Manesar, is fully operational in the next two years, it will generate a revenue of Rs 1500 crore for the state government every year at the current rate of taxation," says Dr Harbaksh Singh. "The total industrial turnover from this township is expected to be over Rs 45,000 - Rs 48,000 crore." He goes on to add that Manesar has been fully sold despite stiff competition from areas like Noida and Greater Noida which have done their utmost to woo clients.
"This has happened because of the level of trust and comfort that we have created in the minds of potential investors. They are happy with our services and are sure that they will not face any problems, be it law and order or political interference, if they set up base here. We have worked hard to create this sort of a image through one-to-one interactions with potential investors and through the showcasing of our infrastructure. It is comparable to the best in the world."
Emboldened by the response, the HSIDC is in the process of acquiring another 3000 acres adjoining the IMT to develop Phase II of the project. "We have an ambitious expansion plan. We wish to make Haryana the most preferred destination for Indian and foreign investors," Dr Harbaksh Singh adds with pride.