Why big men remain little boys!
Thangamani
WHAT is so abnormal about being a mama's boy? Aren't all boys, not to speak of girls — mama's kids? The human child requires nourishment and nurturing longer than other animal species. And unlike animal mothers, which push their offspring away towards independence pretty early, human parents, mothers in particular, look after every need of their children till they are well into adolescence. They also try to hold on just a little longer emotionally to their children, especially boys.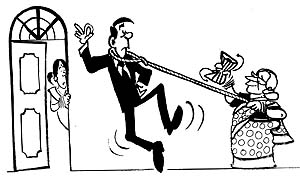 Mothers dote on them when they are babies, walk holding their hands when they turn into toddlers, try to live their every experience in their pre-teen and teen years and still are reluctant to let them go after they become adults and even marry.
It all starts innocuously enough. Mothers nearly preen as they speak about their boys. 'Rishi doesn't eat unless I serve him the food, says Shanti of her 15-year- old, who is sullenly flicking channels, waiting for his mother to stop talking to me and give him his tea — which she lovingly takes to him eventually. Vanita brags, 'My boy never does anything without asking me first. If I say no, he won't do it.'
As they enter their adolescence and teens, the boys begin taking tentative steps towards independence, and yet the mothers want to cling on. Many boys enjoy the adulation of their mothers and thrive on their attention. When asked if he helped his mother, who keeps indifferent health, with chores at home, one young man confessed that his mother did everything for him, including laying out his clothes and fetching him a glass of water. The lady in question doesn't enjoy robust health.
Seeing my shocked expression, he said casually, "It makes her happy to look after me. Why should I spoil her happiness?" Oh God!
Such power over your children can be heady and mothers expect it to continue regardless of the age of their children. Visual ads, TV serials and movies only reinforce the image of the mother as the ultimate being, who is not only above
reproach, but also whose word is law, at least for her sons, who'd go to any lengths to fulfill her every wish.
Nothing wrong in this, as long as it is a healthy bond, where there is a bit of space to allow for resilience. It is only when the bond becomes a binding tie, it begins to choke the boys.
For, soon enough the Sunnys and Buntys have grown into adults and have brought home their Sweetys and Pinkys. That's when the problem begins.
The reason for this behaviour of Indian mothers is cultural, says Sudhir Kakar in his book Inner World. According to him, "....an Indian woman knows that motherhood confers upon her a purpose and identity that nothing else in her culture can. Each infant borne and nurtured by her safely into childhood, especially if the child is a son,is both a certification and redemption.' But why should a mother's closeness to her son be looked upon contemptuously, while her attachment to her daughter is considered normal, even when the girl has grown into a woman? The answer for this lies in the Pinkys and Sweetys that come into the household to share the man's affections with his mother. For, such clinging love of the mother to her son can play havoc with the relationship between the man and his wife.
Why should this be so, while a woman's love for her married daughter is acceptable? The reason for this is that, the mother-daughter bond strives to strengthen the ties between the daughter and her new family, except maybe in extreme cases. You see, it is all about female bonding.
A man might not be able to bond with his adult son as well as a woman does with her grown-up daughter. Women instinctively provide a support network for each other and the daughter simply joins the network and gets support.
Apart from the cultural reason advanced by Dr. Kakar, for mothers holding on to their sons, there is the emotional one too. In India, middle age for women sets in much earlier than in the West, since girls marry and have babies at a younger age than their counterparts in the West.
Holding on to sons is thus a manifestation of the deep-rooted insecurity created by the empty-nest syndrome. The children who had been totally dependent upon her are now grown up and independent at least physically. The husband is most likely in the prime of his life, scaling the heights in his career. This consequently reduces the time they spend together too. So in a desperate attempt to hold on to the reins of her family, she starts clinging to her sons.
A notable observation here is that the women who share a good relationship with their husbands are less likely to hold on to their sons. Being emotionally fulfilled makes them less prone to insecurity. So too, women with flourishing careers or those engaged in gainful activities and community service, are apt to allow more breathing space to their grown-up children. They tend to look at their lives more positively and so are more tolerant of the younger woman in the family Living in a joint family makes it easier to dominate the sons, as often, she continues handling the running of the household and also holds the purse-strings. Consequently, everyone also continues following her methods and rules laid down by her.
Maya Mirchandani, in her book, The Indian Man, his true colours, says, 'The process of transformation from boys to men requires an element of growth not just physically, but emotionally, which in India takes place much later than in the West, if it takes place at all.'
In days of yore, women in large joint families held a great deal of power and it was common for them to command unquestionable authority at least in matters pertaining to running of the house. But girls of today want to have a slice of power and when mama's boys who are thoroughly intimidated by their mothers have little
patience for their complaining wives, it leads to bad relations between the two women. Hence the increasing trend of acrimonious, and even broken marriages. In a recent study on divorces, a significant finding was that interfering in-laws are the main cause for marriages breaking up in the city of Chandigarh. Higher levels of education and tolerance have seemingly left Oedipus complex largely untouched.
Worse, such constricting holding on impinges on the very privacy of a marriage. "I'd looked forward to having the first cup of tea with my husband, but my mother-in-law insists on serving him, barging into our room. The worst part is, my husband doesn't mind it!" says an incredulous new bride.
Things don't improve much even when the marriage is no longer new. Ask Rashmi, the mother of an eight-year-old girl, 'Rohit doesn't come to our room till my father-in-law comes home from work, which is normally pretty late. He says that his mother would feel lonely neglected if he didn't sit up with her.'
Many a time, economic and emotional blackmail are used by the mothers to keep their sons in line. "We do so much for our children, but once they grow up, they tend to forget all our sacrifices and run behind their wives," snorts one woman. Constant reminders of the sacrifices that she has made to raise him, a mother can make the man feel obligated and guilty when he is unable to meet her expectations.
Even more than emotional blackmail, financial dependence makes men feel helpless. Unwilling to give up their claims on the family property, they compromise and toe the line. 'It hardly costs anything to be an obedient and respectful son,' says Amit, 37, much to the consternation of his scowling wife. He stoutly denies that money has a role to play in his scheme of things.
Arvind refuses to take up a job in another city, even though his present job is not satisfactory, as that would mean leaving his parents behind. This sounds better compared to Namita's case. She was left behind to care for his parents when her husband took up a job in Bangalore. He comes once a month for a weekend. "Who will look after my parents?" he asks. Mind you, they are not old and his father is still working. When he is in town, needless to say, he spends a major portion of the time with his parents.
The misplaced sense of loyalty and love the boys have for their mother makes them ready to forgive them anything and this includes their indifference to their wives. "My mother can't be wrong," is the stubborn assertion of many mamas' darlings. There are extreme cases too. I know of the family where the wife had not been allowed to share a room with her husband for nearly six months at a time, on the pretext that the planetary configurations were not right.
Some men are known to remain unmarried in order to look after their widowed mothers. Of course, these are aberrations and not the rule, but the significant thing is that they occur even educated homes, even n the 21st century. Hard to believe? You only need to look around to find it is true.
My grand mother, who had been married in the early years of the 20th century, used to tell us how grandfather used to beat her at the instigation of his mother and then apologise for it when they were alone! Things are not bad today, but there don't seem to much improvement, almost a century later.
Unless doting mamas become confident enough to let their sons go, things would remain so for another century or even longer. If only they would realise that by letting go, they can hold on fast, they perhaps would.