Looking smartly through the glass
Dr R. Kumar
ONE need not be afraid of glasses. They are a blessing to restore your vision, in a most inexpensive, convenient and safe manner. They may prevent squint and permanent blindness in your child, if used early and correctly under the supervision of an eye specialist.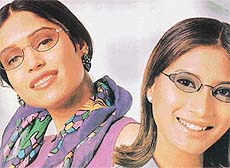 Use of spectacles for reading, protecting against harmful rays of sun (UV rays A&B), dust, smoke, chemicals etc, or as fashion wear or sportswear, is essential.
For young women, spectacles have a place of pride on their faces not only as optical wear but also as fashion-wear or as ornament wear. Obviously their shape, size, weight, colour etc should give a facelift to them. Many may choose rimless frames.
Those sensitive to light can consider photochrometic lenses. Those participating in sports like skiing, golf, tennis, badminton, watersports, fishing, swimming, vehicle race etc would require special safety glasses.
Kids and vision
In kids, the vision and fixation do not develop if the vision is low and it remains uncorrected. So use of glasses for them is even more important.
Uncorrected weak eye can develop squint or become permanently lazy or blind in the long run. If both eyes are weak and remain uncorrected with glasses, both can become lazy.
No age is too young to wear spectacles, if it can restore vision. Since it may not be possible to test vision in small children, it may be necessary to judge by their behaviour or appearance.
If a child rubs eyes, shuts one eye, tilts head, holds objects close to face, blinks excessively, squints etc, take him to the doctor.
Success lies in the early detection of subnormal vision and immediate correction with spectacles.
Selecting specs
While selecting a frame, besides elegance, glamour, lightweight, durability etc, it should be ensured that it stays close to the face (15.7 mm).
Also, the centre of aperture of the frame and centre of the eye coincide with each other.
It should not cause any irritation or discomfort where it rests on the nose.
It should not be too large or too small on the face and should cover the eyes properly, without compromising the field of vision.
Proper choice of glass aperture size ( 48, 50 ,52) and the bridge size (18, 20 , 22 ) as also the temple length of the sidepiece (140 mm etc) as per the need of the patient are essential.
The best glasses
The lens should be thin, light-weight, physically comfortable and cosmetically appealing.
If you are young and your vision is less for distant objects, you will require single vision glasses.
If you have crossed 40 years of age and feel difficulty in reading and doing other fine work as well as seeing distant objects, you will require bifocals.
Lenses
Progressive lenses have also become available, where there is no bifocal line but incorporate glasses for distance as well as near.
Aspheric lenses have less thickness and are cosmetically more appealing. Also, they do not give any magnification or minification to the wearers eyes.
Similarly, high index lenses are thinner and lighter and give better looks. Resin lens or plastic lenses have become popular, because they are thin and scratchproof.
Special polycarbonate lenses have been invented for sports-persons, since they are resistant to severe blows.
As compared to standard lenses, these four types are more expensive.