M A I N N E W S
No assurance to USA: PM
Tribune News Service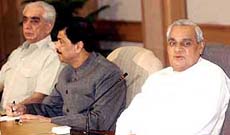 Prime Minister Atal Bihari Vajpayee presiding over an all-party meeting on developments following the terror strikes in the USA, in New Delhi on Thursday. — PTI photo

New Delhi, September 27
In an effort to put all doubts at rest, Prime Minister Atal Behari Vajpayee today told leaders of the Opposition parties that India had not given any assurance to the USA "directly or indirectly'' of making available its air bases in any action in Afghanistan and made it clear that it was not dependent on anyone in its fight against terrorism.
"We have not given any direct or indirect assurance to the USA about offering our bases and we should put an end, once for all, to such speculation", the Prime Minister observed at an all-party meeting here which included leaders of the Congress, Left parties, the AIADMK, the TDP, the BSP, the Samajwadi Party and the RJD.
The meeting saw a strong demand from several parties that India should take a lead in mobilising the NAM in the fight against terrorism.
Condemning attempts to link the fight against international terrorism with Islam, Mr Vajpayee called for an all-party national campaign against terrorism and stressed on the need for maintaining communal harmony in the country.
Briefing mediapersons after a two-hour meeting chaired by the Prime Minister, Parliamentary Affairs Minister Pramod Mahajan said Mr Vajpayee said the government was not depending on anyone for its fight against terrorism.
Even as a majority of the Opposition parties extended their support to the government, the Congress and Left parties cautioned against taking any step which would run counter to the country's long-sustained policy of non-alignment.
They also asked the government to step up efforts to activate the United Nations with the CPM saying it should not merely be a "follower of America". The leaders suggested that the government should also have close consultations with neighbouring countries and a "look East" perspective instead of only contacting western countries in the prevailing international situation.