Pablo Picasso: a creator par excellence
Soni Mishra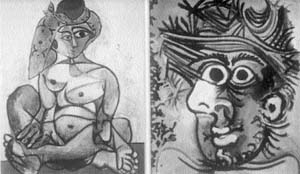 'Nude in Turkish Hat' and 'Man in Straw Hat'
— Photos courtesy India Today
The evolution of Pablo Picasso is as arresting as his works and a retrospective of the creations of the 20th century master is only appropriate for the first-ever Picasso exhibition in India.
"Works from just one phase of the artist's life or those dealing with a certain theme would not have done justice either to the Indian viewers witnessing Picasso for the first time or the artist himself," says Dr Saryu Doshi, Director, National Gallery of Modern Art, Mumbai, who has curated the exhibition together with Marie-Laure Bernadac, Chief Curator, Museum Picasso, Paris.
The development of Picasso, the artist, was not a smooth trajectory. He went through very different phases in his creative life, and the three-month-long exhibition currently on in New Delhi's National Museum has works representative of each phase, says Dr Doshi.
The exhibition, that will travel to Mumbai in February next year and will be open through March, is aptly called "Picasso: Metamorphoses 1900-1972", and has on display 122 of the prolific artist's creations that include paintings, sculptures, drawings, engravings and ceramics.
Picasso was very prolific, artistically active from the age of 14 till he died in 1972, creating thousands of artworks, says Bernadac, admitting that 122 may provide with only an outline of the artist's creations, but all the same depict how his style kept changing as he progressed in life.
There is an overwhelming melancholy in Picasso's early works, but he goes on to become more and more cheerful except for the paintings made during the Spanish civil war in 1939 when he conveys his concern for the country of his birth.
The paintings made by him shortly after his arrival in France in 1900, where he lived till his death in 1972, speak of sadness, influenced by the trauma Picasso suffered in the suicide of a close friend.
Called the Blue Period, the initial phase in Picasso's creations gave rise to paintings like "Portrait of a Man", where the colours are dark and gloomy and the expression is of angst.
The end is equally carefree and cheerful. Towards the end, Picasso seems to have broken free from all conventions to paint as he desired, says Bernadac.
"I want to paint like a child," said Picasso, which meant that he no longer wanted to follow any rules of any sort," she says.
The changes that Picasso went through also had to do with changes happening in his love life, says Bernadac.
"Picasso's works revolve around the women in his life. With the entry of every new woman in his life, his style also underwent a change," she explains.
According to Dr Doshi, it is not clear whether Picasso's love life changed because he had moved on to a different plane of life as depicted by his work or the change in his love life affected his style.
The first change, for example, happened in 1904, with the first glimmer of cheer entering Picasso's work after he met Fernande Oliver who became his girlfriend, launching the next phase in his creativity, called the Rose Period, which gave rise to paintings with bright colours like rose and ochre.
Another example of how his relationship with the women in his life influenced his work is the portrait of his wife Olga Kokhlova, characterised by aggressive colours like red and yellow, expressive of the tension in his married life, says Bernadac.
The period between 1906, when the Rose Period was concluding and Picasso was gradually moving towards the Cubist movement, and 1927, when he was on the threshold of the Surrealist movement, had the leader of modern art at his most artistic, says Dr Doshi.
Despite the influence of the Cubist movement, which broke sharply with tradition and was characterised by abstraction, Picasso's works could never become very abstract.
"Picasso never really became abstract. He believed in his works having a subject, in having a distinct message to convey," says Bernadac.
The "Bather" series of Picasso's paintings is a good example of how his paintings never became completely abstract. The "Bathers" retain their humanness despite having transformed into object-like figures.
Bernadac goes on to say that Picasso was a "creator" and not merely an "artist". "Give him anything and he could create an art form out of it. He was restless as an artist and needed an outlet for his creativity at all times," she says, pointing at "The Bull", a sculpture Picasso made out of a bicycle seat and the handle.
Picasso gave vent to his creative urge through poetry also. Writing in French, in a style that critics have termed as spontaneous and unmindful of conventions, the versatile artist decorated his poetry with drawings.
"This is where we can draw a comparison between Picasso and Rabindranath Tagore who also burst into small scribbles of drawings while writing poetry," says Dr Doshi.
But there is a difference. While Tagore began with writing poetry and branched out into painting, poetry followed painting for Picasso, she informs. PTI