Monday, January 7, 2002, Chandigarh, India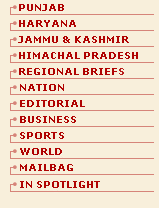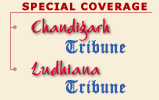 M A I N N E W S
Hizbul commander among 10 shot
Tribune News Service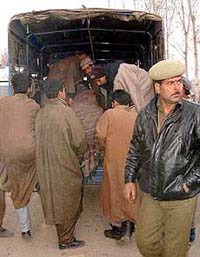 Body of a Hizbul Mujahideen's company commander, Mohammad Amin Bhat, being taken for burial. — PTI photo
Srinagar, January 6
At least ten militants were killed in separate incidents in the Kashmir valley since yesterday while the security forces recovered large quantities of arms and ammunition during search operations.
Three militants of the Hizbul Mujahideen were killed in an encounter with the BSF near Chadoora in Budgam district of central Kashmir early today. Those killed were Mohammad Amin Bhat, company commander of the Hizbul Mujahideen, Nazir Lalli and Samad Sheikh, all residents of the same area. The police, however, confirmed the death of only two militants, Mohammad Amin Bhat and Nazir Lalli.
A BSF spokesman told newspersons here today that the troops recovered one AK rifle, six AK magazines, 40 rounds of AK ammunition, one pistol, a wireless set, five IEDs, two hand grenades and some incriminating documents.
The spokesman said the troops of 171 Bn, BSF, carried out the search operation on the basis of a specific information. The troops were fired upon by the hiding militants at about 4.45 a.m., which led to the encounter. The encounter continued for over two hours leading to the killing of the militants.
The killings sparked tension as villagers alleged three unarmed residents had been killed by the security forces after arresting them. They demanded an enquiry into it.
An ambush party of the security forces killed a militant at the Mattan chowk in Anantnag district yesterday, the police here said. One AK rifle and some ammunition was recovered from the slain militant.
In another operation, a patrol party of the Army and SOG killed a militant in the jungle area of Sogam in Kupwara district of North Kashmir yesterday. The incident took place when the patrol party was fired upon by the hiding militants in the area. One RPG, three RPG rounds, five RPG grenades, 10 RPG boosters, six UBGL, two hand grenades, one magazine, 30 AK rounds of ammunition and a wireless set were recovered from the site of the encounter.
Three LeT ultras were killed in a gunbattle with the security forces in the Kalaban forest belt in Poonch, official sources said.
The slain militants were Nassir Mujahid, Afrid Bhai and Abu Mujahid, they said, adding that the gunfight erupted during search operations by the Army troops in the area. In another gunfight in the Chingus belt of Rajouri, two unidentified militants were killed, the sources said.