Friday, January 11, 2002, Chandigarh, India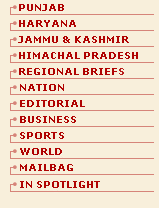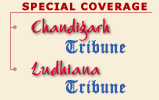 M A I N N E W S

Badal releases 2nd list
One Christian among 11 new faces, 2 ministers out
Tribune News Service

Ferozepore, January 10
As many as 11 new faces, including one Christian and the state Food and Supplies Minister, Mr Sohan Singh Thandal, who was involved in the "pigeon controversy", figure in the second list of the Shiromani Akali Dal (SAD) candidates. The list was released here today by SAD President and Punjab Chief Minister Parkash Singh Badal.

The Punjab Social Security and Development Minister, Mr Gobind Singh Kanjla, and the Minister of State for Housing and Urban Development, Mr Ranjit Singh Ballian, who represented the Sherpur (Reserve) and Sangrur Assembly segments and are confidants of Mr Surjeet Singh Barnala, Governor, Uttaranchal, and the Union Minister, Mr Sukhdev Singh Dhindsa, respectively, have been denied party ticket. It is Mr Sanmukh Singh Mokha and Mr Piara Singh who have been nominated from Sangrur and Sherpur, respectively.

By announcing the list of 24 more candidates for the February 13 poll, Mr Badal seems to have taken an edge over the Congress so far as campaigning is concerned. The 43 candidates, who have been allotted ticket by Mr Badal earlier, have already started their campaign, while the aspirants for the Congress ticket are still camping in Delhi.

Mr Munawar Masih, a Christian, has been nominated from Gurdaspur in place of the sitting MLA, Mr Kartar Singh Phara, to give representation to Christians in the SAD, as promised by Mr Badal long ago. Mr Gagandeep Singh, son of Mr Barnala, has been allotted ticket from Dhuri. Giani Niranjan Singh, another new face, has been nominated from the important constituency of Lehragaga, at present represented by a former Chief Minister of Punjab, Mrs Rajinder Kaur Bhattal.

The other new faces include Mr Mohan Singh Bangi from Talwandi Sabo Assembly segment in Bathinda district, Mr Jagdeep Singh Nakai, Chairman, Milkfed, Punjab, and friend of former Union Minister, Sukhbir Badal, from Joga in Mansa district, Mr Hari Singh Zira, former Chairman, PSTC, whose close kin, Mr Sukhdarshan Singh has jumped into the election arena as a rebel candidate from Muktsar seat against the official nominee, Mr Harnirpal Singh Kuku, has been nominated from Zira in this district.

Mr Jagjivan Pal Singh and Mrs Satwinder Kaur Dhaliwal, former Member of Parliament have been nominated from the Payal and Khanna Assembly segments in Ludhiana district. Mr Zora Singh Bhagike has been nominated from Nihal Singh Wala in Moga district. Mrs Dhaliwal is the fourth woman to have been allotted party ticket by SAD. Earlier, Bibi Jagir Kaur, former President of the SGPC, who is involved in the controversy relating to the mysterious death of her daughter, Rosy, Mrs Satwant Kaur Sandhu and Mrs Upinderjit Kaur, were renominated from Bholath, Chamkaur Sahib and Sultanpur Lodhi Assembly segments, respectively.

By allotting the ticket to Mr Nakai from Joga which is represented by Mr Baldev Singh

Khiala and Mr Zira from Zira, which is represented by Mr Inderjit Singh Zira, both confidants of the President, Sarv Hind Shiromani Akali Dal (SHSAD), Mr Badal has put a question mark on the chances of unity between SAD and SHSAD despite the fact that a move has already been initiated by prominent Punjabis living abroad for the same. Mr Badal has already nominated Mr Ujjagar Singh Wadali from the Morinda Assembly segment in Ropar, which was represented by Mr Ravi Inder Singh, an important constituent of the SHSAD.

Mr Badal when asked whether there were still chances of unity, said that it always needed two hands to clap. He, however, added that Panthic Morcha leaders were hand-in-glove with the Congress.

Those who have been renominated include Mr Makhan Singh from Pakka Kalan in Bathinda district, Mr Gurtej Singh from Balluana in this district, Mr Gurdeep Singh Bhuller and Mr Gurmeet Singh Daduwal from the Nurmehal and Nakodar Assembly segments in Jalandhar district, Capt Balbir Singh Bath from Sri Hargobindpur in Gurdaspur district, Mr Bhag Singh Malla from Jagraon in Ludhiana district, Mr Sukhwinder Singh Aulakh from Mansa, Mr Harbant Singh Datewas from Budhlada and Mr Balwinder Singh Bhunder from Sardulgarh in Mansa district. Mr Bhunder, a confidant of Mr Badal lost the last Assembly election to SAD (Amritsar) candidate, Mr Ajit Inder Singh Mofar, who later joined the Congress.

Mr Malkeet Singh Keetu, who defeated SAD candidate in the last Assembly elections by contesting as an Independent candidate from the Barnala Assembly segment and later joined the same party, has also been given ticket from that prestigious constituency.