M A I N N E W S
BSF kills 2 Dutch 'militants'
4 Hurriyat leaders detained
Tribune News Service and PTI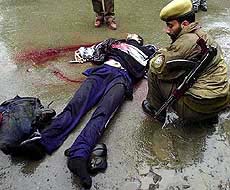 A policeman inspecting the body of one of the two Dutch nationals foreigners killed at Dalgate in Srinagar on Sunday. — PTI photo

Srinagar, January 13
Two Dutch nationals "armed with daggers" who allegedly attacked a BSF patrol party were killed in retaliatory firing at Dalgate here this morning.
"The assailants tried to snatch a weapon and inflicted dagger wounds on two BSF personnel. In retaliatory firing, the assailants got killed", a police spokesman stated here. The foreigners staying as tourists in a houseboat near Dalgate were identified as Ell Bakiowli Ahmad and Ell Hassnowi Khaliq.
The injured constables have been identified as Y.P. Tiwari and Shiv Kumar Yadav.
The police said investigators traced the cases of daggers hidden in the houseboat where they were staying. They were carrying some credit cards, two cell phones and a compass.
The assailants, according to the police, had reached New Delhi on December 26 from Amsterdam. They had come to Srinagar by road on January 6.
However, claiming that the Dutch nationals were tourists, Jammu and Kashmir Human Rights Front (JKHRF), a non-political organisation, demanded action under international law against the BSF personnel who killed them.
JKHRF chairman Mohammad Ahsan Untoo, in a statement, termed the incident as a "naked exhibition of terrorism". He said the killing of the Dutch nationals was a severe blow to the tourism industry in the state.
Elsewhere, at least 11 persons, including 10 militants, were killed in separate incidents in Jammu and Kashmir since yesterday. The police and security forces apprehended three suspects and busted two hideouts, seizing a large quantity of arms and ammunition.
Intermittent exchange of fire between the two sides was also reported along the international border in Kathua and Jammu districts since last evening.
Meanwhile, four senior Hurriyat Conference leaders, including its spokesman Sheikh Abdul Rashid, were detained by the police during overnight raids in Srinagar and Anantnag, the sources said today.
Rashid was whisked away by the police to an unknown destination after a raid on his Narwarah residence last night.
The police raided the houses of senior Hurriyat leader and Muslim Conference vice president Ghulam Nabi Sumji at Bijbehara, People's League leader Mukhtar Ahmad Waza at Anantnag and Awami Action Committee's (AAC) Ghulam Nabi Dar at Botikadal in Srinagar and picked them up.
The residences of JKLF's Bashir Ahmad Bhat at Kadipora-Anantnag and AAC general secretary G.M. Bhat were also raided but no one was picked up.
The police also searched the houses of two relatives of senior Hurriyat leader Syed Ali Shah Geelani at Hyderpora and Buchpora. PTI