India, China come closer
Rajeev Sharma
Tribune News Service
New Delhi, January 14
The visiting Chinese Premier, Mr Zhu Rongji, today had some very "useful and strategically significant" talks with Prime Minister Atal Behari Vajpayee and External Affairs Minister Jaswant Singh wherein the Indian leadership is understood to have asked Mr Zhu to speed up the Line of Actual Control (LAC) clarification process.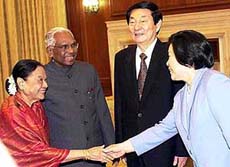 President K. R. Narayanan and his wife Usha Narayanan with Chinese Prime Minister Zhu Rongji and his wife Lao An at Rashtrapati Bhavan in New Delhi on Monday. — PTI photo
Well-placed sources here told The Tribune today that one thing was quite clear after Mr Zhu's talks with the Indian leadership: that the Sino-India relations are "no longer on conflict mode" and, in fact, see eye-to-eye on the important issue of condemnation of terrorism.
This is a significant observation coming from these sources as the "China factor" is of prime importance in the event of an Indo-Pakistan military conflict. This is reflected in the ground situation also as India's eastern borders are quiet and there is no unusual movement of troops from the Chinese side when the Indo-Pak forces are faced with an unprecedented military standoff.
Several issues came up during Mr Zhu's discussions with Mr Vajpayee and Mr Jaswant Singh, including LAC clarification, trade and economy, military affairs, science and technology and water resources.
Sources said Mr Vajpayee asked the Chinese Premier to speed up the LAC clarification process and complete it as early as possible. Mr Jaswant Singh had told Parliament that the Indian government was keen on ironing out differences on the LAC by year 2001.
The two countries are also understood to have discussed a number of Confidence Building Measures (CBMs) — such as exchange of military personnel; creation of more border meeting points; and more frequent meetings between officials of the para-military forces.
Talks on the LAC issue have been going on at a very tardy pace since 1988 and in the last 14 years the two sides have so far been able to sort out only the middle sector of the LAC the maps of which have been exchanged by the two sides.
India and China are now going to take up the western sector and subsequently the eastern sector which are considered to be far more contentious.
Sources pointed out that the Sino-Indian talks on resolving the border dispute were going on smoothly and expressed optimism about speedy resolution of this major thorn in the side of Sino-India relations.
It may be recalled that China is illegally occupying 38,000 square km of Indian territory. Besides, in their official maps Beijing has been showing Arunachal Pradesh as Chinese territory while Sikkim as an independent country.
The Indian leadership and Mr Zhu also agreed on the need to have a "dialogue architecture" for talks on different issues and the meeting of Joint Economic Group between the two countries should meet annually.
Given the fact that India and China together comprise two-fifth of the world population and boast of having two of the largest and fastest growing economies in the world, there is keenness on both sides to substantially increase bilateral trade. Last year's bilateral trade between New Delhi and Beijing was 2.9 billion dollars — an increase of 40 per cent over the previous year — while the target for this financial year has been fixed at 3.5 billion dollars.
Meanwhile, Prime Minister Vajpayee, who hosted a banquet in honour of the Chinese Premier and his wife Lao An, said in his banquet speech that "the good progress in the process of clarification and confirmation of the LAC" signalled the two countries' intentions to improve their age-old ties. He talked of the direct air flights between Beijing and New Delhi from the end of March, 2001, which would go a long way in enhancing people-to-people contacts and promote tourism and business exchanges.
"Cooperation against terrorism is at the top of the agenda of all peace-loving countries and I am happy that we have agreed today to jointly counter this menace," he said.
Meanwhile, Ms Nirupama Rao, a spokesperson of the Ministry of External Affairs, today said the Sino-Indian relations over the recent years had achieved dimensions of multifaceted and mutually productive relationship and both shared views on condemnation of terrorism.