Cong to fight communalists
Chander Parkash
Tribune News Service
Muktsar, January 14
The Congress today put up a good show and attracted a huge gathering at a conference organised on the occasion of Maghi mela despite the absence of senior leaders, including former Chief Minister Rajinder Kaur Bhattal, Mr Jagmeet Brar, MP and the DCC chief, Mr Raghbir Singh.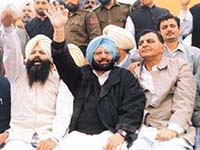 Capt Amarinder Singh, PPCC President, waves to the crowd at a Maghi Mela political conference at Muktsar on Monday. — A Tribune photo


The PPCC President, Capt Amarinder Singh, star speaker at the rally, lashing out at the Akalis for communal-based politics, alleged that the Anandpur Sahib Resolution passed by the Akalis in 1973 and later amended in 1978 was the main factor which initiated militancy in Punjab.

He said though the SAD-BJP alliance came to power by promising that outstanding demands of Punjab, including share in river water according to riparian principles, transfer of Punjabi speaking areas and Chandigarh to Punjab, would be solved, but it failed to do so despite having friendly governments at the Centre, Haryana, Rajasthan and Delhi.

He said during the past five years, unemployment, corruption and atrocities of the police had crossed all limits. The economy of Punjab was on the brink of disaster, he alleged.

He said if the Congress was voted to power, a commission would be set up to launch proceedings against those who had indulged in corruption and exploited job-seekers.

Though all speakers projected Capt Amarinder Singh as Chief Minister, the absence of party MPs, including Mr Jagmeet Brar, reflected on the proceedings. Capt Amarinder Singh also faced an embarrassing situation at Bathinda and Muktsar when a section of party workers expressed its resentment against the distribution of ticket.

He said the Centre was creating war hysteria to polarise the

electorate especially in Uttar Pradesh.

He added that a charge sheet against the SAD-BJP government and the party's manifesto would be released within two to three days.

Those who addressed the gathering included former Chief Minister, Harcharan Singh Brar, who had been nominated from Muktsar, and Mr Mohinder Singh Rinwa.

Talking to mediapersons, Capt Amarinder Singh said Mr Jagmeet Brar could not attend the rally as he was away to Delhi in connection with some party work. He said some other leaders had failed to turn up as they were busy campaigning for candidates.

He said the alliance with the CPI would not be reviewed and no change would take place.