M A I N N E W S
TRIBUNE SPECIAL
Time to restore rights to Afghan women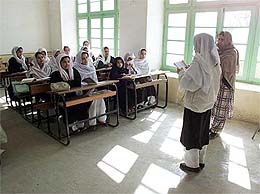 A student reads to her class at a school in Afghanistan's southern city of Kandahar on Monday. Afghan girls are flooding back to school after being deprived of education during the Taliban government, which crumbled in the face of the blistering US aerial bombardment launched on October 7.
— Reuters photo
Mohammed Zahir Shah is the exiled king of Afghanistan. He was interviewed by Rina Amiri, senior associate for research at Harvard's John F. Kennedy's School of Government, in Rome last week.
The following are the excerpts from the interview:
Rina Amiri: Your Highness, one of the most salient issues in Afghanistan in the post-Taliban period has been the gender issue, what is your perspective about the concerns regarding women's rights in Afghanistan?
Zahir Shah: Traditionally, women have played a significant role in our society, both in the rural as well as in the urban sectors. As for the question of women's rights in Afghanistan, I firmly believe that no effort should be spared in ensuring that these rights are guaranteed. The women in Afghanistan are our mothers, sisters and daughters. Their active contribution is vital to the reconstruction of our country.
RA: How far was the women's rights movement set back by the Taliban, and what realistic expectations are there for reinvigorating efforts on this matter?
ZS: Women suffered a great deal under the Taliban, and their situation was very tragic. I am certain that in the future women will be able to regain the roles they once had. Our society remembers that women have had a strong position in our country. In the past the constitution of 1964 granted women the right to vote, to get education and to work in a variety of professional positions in government, media, industry and particularly in public health.
RA: What are some of the obstacles that could hinder these efforts?
ZS: Afghanistan has been devastated by almost three decades of war and civil strife. We find ourselves in a situation where practically all our traditional institutions have been destroyed. However, we must strike a balance between our need for social change and progress, and the concerns of the traditional elements of our society. For change to take root, it must follow a steady course, and in each step it must be negotiated and accepted by our society as a whole in order to be truly anchored in our culture.
RA: How were you able to reconcile the traditionalist elements of the country with such strong roles for women?
ZS: We facilitated women's participation in the national development, but did not impose a policy on any group or individual. There were many choices for women, but they were not forced into any role.
RA: How much of a priority will the gender issue be in the new planning process in the transitional government?
ZS: There is no doubt that the gender issues are of high importance, but we must address these matters within the larger context of addressing deprivation suffered by all Afghans throughout the country. The Afghan people have faced tremendous hardship and deserve a system that will help them regain their normal place in society.
RA: What are the most important issues that the transitional government will face?
ZS: The No. 1 concern is establishing security and the rule of law. Without security, regardless of their legitimate rights, women will be fearful and will choose to remain in seclusion. We also need to create jobs enabling both men and women to have access to resources. An entire generation has been deprived of its basic rights to education and health care.
RA: Do you believe that women will once again play an active role in society, particularly in the new government?
ZS: I am convinced that the women of Afghanistan who have shown extraordinary courage in the struggle for their freedom, dignity and independence will participate alongside with men in a new venture that will bring prosperity to our beloved land.
RA: How important was the role of the media in the West in getting women a position in the transitional government?
ZS: I do not think it was due to any kind of pressure from the media. Even before Sept. 11, in the preparatory emergency Loya Jirga (editor's note: a grand council, traditionally a gathering of representatives from different tribes and factions in Afghanistan selected by their local leadership) back in November 1999, we already had eight women representatives. You will remember since you were there, that our desire to include women in that process was not due to media or international pressure. We simply thought that participation of women was of great importance.
RA: How much of a substantive role will the two women in the transitional government play? What will they be bringing to the table, and how will they be contributing to the rebuilding of Afghanistan?
ZS: Dr Suhaila Seddiqi and Dr Sima Samar are respected professionals who have been contributing to the Afghan people for decades. The reason they have been chosen to serve in this transitional government is because they have gained the trust and respect of our people and demonstrated their commitment to rebuilding the country. As doctors, they each have been dedicated to help lessen the suffering of our people and have a wealth of experience in humanitarian relief.
RA: The perception of the international community is that Afghanistan is too fractured to forge a common identity and that this will continue to pose a problem in the peacemaking process. How valid is this view?
ZS: It is true that in the many years of war, various groups have exploited the issue of ethnicity and caused fragmentation among our people. But we must also remember that this is one period in Afghanistan's long history as a nation. Afghanistan's unity has been proved over and over again despite ethnic differences and it has remained a nation forged together by history and geography. Foreign powers seeking domination have also provoked confrontations among these ethnicities but nonetheless have always been miserably defeated. We are also aware now, more than ever, that we have to work together to bring peace to our country.
— Asia Features