M A I N N E W S
Jehadi groups sneaking into PoK
Prabhjot Singh
Tribune News Service
Chandigarh, January 18
Are jehadis and members of other banned terrorist outfits sneaking into the Pakistan occupied Kashmir (PoK) or gone into hiding?
Reports from across the border monitored here indicate that though the Pakistan Government had launched a concerted campaign against Islamic extremists spreading disharmony and violence, yet some of the arrests were just an eyewash.
The attitude of the Pakistan Government, they reveal, was to continue patronising the banned organisations but on a different note.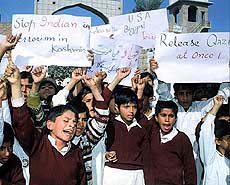 Pakistani children chant slogans in Multan on Friday, demanding the release of Muslim militants who were detained by the Pakistan government recently.
— Reuters photo


The arrested workers were being quietly released who, in turn, were finding the PoK a safe haven for continuing and carrying out their anti-India terrorist activities without bringing blame on Pakistan.

The United Jehad Council chief, Syed Salahuddin, is known to have made his views clear that the Jaish-e-Mohammad (JeM) and the Lashkar-e-Toiba(LeT), now banned in Pakistan, would continue their activities in Kashmir as "PoK is not a part of Pakistan".

The "defiant stand" of the United Jehad Council chief reveals that Pakistan would now try to support cross-border terrorism in a different guise to "mislead international public opinion".

On the other hand, the Pakistan Government was dealing sternly with those Islamic terrorists who were creating internal problems. Police forces in Pakistan, the reports suggest, have so far arrested as many as 1900 Islamic terrorists in all the four provinces. The organisations affected by this crackdown were the anti-Shia Sipah-i-Sahaba (SSP), the Pakistan-Afghanistan Defence Council and the Tehrik-i-Nifaz-i-Shariat-i-Mohammadi (TNSM).

Mr Javed Iqbal, Secretary, Human Tribal Affairs in the North West Frontier Province (NWFP), reportedly admitted that most of the Islamic terrorists posing internal threats had been picked up and booked under the Maintenance of Public Ordinance (MPO) — an Act which runs on the lines of the National Security Act (NSA) of India.

Mr Iqbal has been quoted as saying: "We have gone after activists who had a known history of trouble-making, disruption, disobedience and road blocks only".

Investigations reveal that 195 of 300 activists arrested in the NWFP were from the TNSM

which was held responsible for a "bloody revolt against the state in 1994 when its activists seized control of the government buildings, airports and police stations in an attempt to enforce Shariat in Malakand division.

"The TNSM also motivated thousands of its followers to go to Afghanistan to fight for the Taliban in October last year. A large number of them were hunted down and killed while hundreds of them remained unaccounted for while an equally large number were apprehended and taken prisoners.

In Baluchistan also, the reports said, six religious leaders belonging to the Jamait-e-Islami (Fazlur) and Jamait-e-Islami and Defence of Pakistan and Afghanistan Council had been arrested.

Mr Tariq Jamil, DIG of Police, Karachi, reportedly said the police had detained 120 persons but no office of any banned organisation had been sealed, indicating that activists of the banned JeM and LeT had been tipped off in advance and they went either into hiding or managed to sneak into the occupied Kashmir.

The offices of the frontal organisations of these banned terrorist outfits, which were serving as collection centres are now mostly locked. Interestingly, in this major nationwide crackdown on the banned Islamic terrorist organisations, hardly any arms or ammunition have been recovered either from their offices or hideouts.