Globalisation and Indian music
P.K. Ravindranath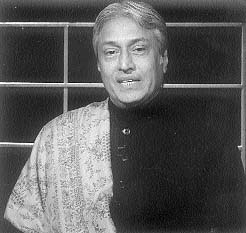 Amjad Ali
Eminent musicians, musicologists and internationally renowned performers, all tend to agree that Indian music has little to fear from globalisation. They call it a natural process, which has been in evidence for at least four millenia.
Participating in a three-day seminar on "Globalisation and Indian Music", organised by the ITC-Sangeet Research Academy, the National Centre for Performing Arts and the Music Forum, in Mumbai, they welcomed it as "more interaction between people wherever they live in the world, for a common set of humanistic and democratic values, for an economic system capable of dealing with the old vicissitudes of geography and resources."
Simon Mundy, Cultural Policy Adviser, UK, and eminent writer, however, struck a slight discordant note, when he said, "Globalisation is the political and trading expression of the 21st century, responding (as all such developments do) not to the deliberate intentions of the government, but to the opportunities presented by communication, the ratio of time to distance in travel and the ease of migration."
He warned: "The notion that the trading system could deliver the ideal that thousands of years of mutual conquest and cultural imposition had failed to do —the ideal of global inclusion — is immensely attractive. It offers a just, open modus vivendi too big to be manipulated by any tyrant or hijacked by any empire. But that is not the whole story. No shift in political strategy or economic system, certainly not one as big as this second industrial revolution, occurs without cost or tension. There are fears that big business (and especially American business) will become all-consuming — only interested in its own success — and outside social influence or democratic political control. It is the East India Company on a world scale."
He continued: "There are justifiable fears that the interests of financial institutions in the free movement of capital will be put before the interests of the environment or social justice. "And there are the political fears of those who have spent most of the past century carving out nation states (or achieving national sovereignty, as they would see it) that such states become economically irrelevant and so politically moribund."
Mundy also warned of "global cultural exploitation." If globalisation releases the potential of the people, and allows them to discover and explore, then it is of great benefit. "There is nothing wrong with globalisation which serves the spread of genuine artistic understanding and the exchange of ideas," he said.
Two eminent performing artistes, Pandit Shiv Kumar Sharma (sarod) and Ustad Zakir Hussain (tabla), who often play abroad, welcomed globalisation. Pandit Sharma stressed the fact that Indian music had been subject to constant and continuing change over the past millennium. Indian classical music, he said, had gone global even even before globalisation came in.
"The interaction with the music of other countries had produced fusion. This cannot by any stretch of imagination be called dilution of our music. The artiste has every right to assimilate change, without losing his firm grip on the ground", Zakir Hussain said. He firmly believed that Indian classical music will always remain just that.
Zakir Hussain said it was Amir Khusro who started the concept of globalisation with his development of khayal out of Dhrupad. Ali Akbar, Bade Ghulam Ali and Ravi Shankar have all changed Indian music, and had been successful in making us accept such changes. Today's musicians, he said, were fully aware of what they were capable of Pandit Shiv Sharma, he said, had brought the santoor out of obscurity and made it into one of the premier Indian instruments.
"Change is inevitable", Zakir Hussain said, "but it is for us to decide what we are going to do with globalisation."
Arvind Parikh, an eminent sitar player and president, Music Forum, posed the question: "How do we get the benefits and avoid the disadvantages of globalisation?" He gave no specific answer, nor did any one else attempt it.
They did not seem to realise that globalisation is blatantly the transfer of power to the international business class, which has now become the ruling class the world over."
The threats posed by globalisation is that the USA is today the controlling voice in international business. Three successful businessmen run the country today —George W. Bush, who had been in the petroleum industry, Vice-President Dick Cheney and Defence Secretary Donald Rumsfeld, who were both CEOs of powerful petroleum corporations.
The massive corporate structures of the USA continue to overawe trade and commerce in countries rich in raw materials and natural resources through the mechanism of the World Trade Organisation. Since it has steadfastly refused to join UNESCO, it is not bound by its conventions that protect the rich cultural diversity of countries like India. This leaves it free to "globalise" the arts and cultural heritage of countries like India, China, Indonesia, Bangladesh and a host of other culturally rich countries.
The first threat under globalisation will, therefore, be to our rich heritage of music. The removal of the quantitative restrictions on the import of 715 items by India at the instance of the WTO is a precursor of what could come about in respect of Indian music lore, dance forms, folk art and other artistic expositions. They could all be "globalised."
No Indian promoter of recorded music will be able to withstand the tentacles of American monopoly houses or transnational corporations. A number of Indian companies that have already been taken over by American MNCs stand mute testimony to what could happen to Indian music recording companies. They are better organised globally and are in a much better position than others to quell dissenting voices and provide alternative distribution networks or take over existing ones in the poorer countries.
Several Indian musicians have already established a market for themselves abroad — Ravi Shankar, Ustad Bismillah Khan, Ustad Amjad Ali, Yesudas, Shiv Kumar Sharma, Zakir Hussain and others. They may not feel the pinch, but in the case of lesser known artistes, there is very little to safeguard their royalty, recording rights and other privileges.