A cornucopia of artistic talent offers a visual treat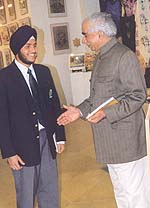 Angad Sodhi, from Mayo College, Ajmer, presented one of his paintings to External Affairs Minister Jaswant Sigh, at the IHC.
THE last week of the year 2001 saw a spate of activities in the realm of art. There was 'Bengal Art, Past and Present' at Visual Art Gallery with a host of artists from West Bengal participating in it. Contemporary West Bengal was sought to be portrayed through widows with shaven heads; Durga, the goddess of power and energy; domestic affairs through love, care and the degeneration in values. A visual treat, the exhibition was an enriching journey to the world of West Bengal today.
In another artistic show, Art Today came up with a thematic exhibition of 12 zodiac signs, painted by artists of repute who titled their paintings accordingly, Aquarius, Taurus, Leo and so on.
Even in the company of famous names like M. F. Hussain, Jatin Das and Paresh Maithy; a veteran painter, Paramjit Singh, though not as well known, stole the show with his 'Pisces'.
What drew maximum attention were the works of young artists from Mayo College, Ajmer, at the India Habitat Centre. Sponsored by Mayo Heritage Society, it was an exhibition of paintings, crafts and photographs.
Scanning the entire art gallery in one go did not help. There were countless varieties of artistic items provoking wider glance. Divided into two sections, preparatory and senior, the gallery had countless attractions. Paintings portraying landscapes, murals, the life in Mayo, human figures, on the spot paintings—most of them on water and poster colour, were pulsating with life for the aura of their bright colours and unusual shades of mixes.
'Glimpses of Mayo,' a collection of seven paintings, done in seven days by young Angad Sodhi, a student of class X1I, turned out to be a major crowd- puller. Mayo and its pristine beauty in water colours allured even the External Affairs Minister Jaswant Sigh, who was presented with a Sodhi painting. For Sodhi, who wants to be a lawyer, painting is just a hobby he would like to take recourse to, when he needs solace.
Another attraction was the wire works and soft sandstone items. Soft aluminum wire, uniquely molded in the form of a man skating and sitting on a chair, woman knitting a sweater were, unfortunately, 'not for sale.'
The factory waste of soft black sand was something that attracted the school vice-principal, Mrs Dipika Hazra, and her curator husband's attention. With their guidance, the students made countless decorative pieces of art, specifically huge abstracts that few exhibitions had done so far.
Then, various figures on terra cota, stained glasses, and countless wall hangings of bright colours and mirror work in shell made the visitors dig deep into their pockets.
The boys' section boasted of tie and dye fabrics, miniature and abstract paintings. "I find girls are better than we in art and craft. The boys are more inclined towards sports-related activities which are reflected in our works," said Vaibhab Raghunanadan of class IX, whose miniature paintings saw many admirers. The exhibition had been on for only two days, and a major crowd-puller, particularly for its negligibly priced (Rs 25 to 1,000) utility items.
The art world also witnessed another child artist, Mehar Soni, a nine-year old student of Modern School, Vasant Vihar. Perhaps, the youngest Indian abstract painter without a formal art education, her work came to light at the IHC as part of 'The Expression of Mother and Child,' a group exhibition with her 40-year-old artist mother, Sarab Soni, hailing from Ludhiana.
Sarab, who had many solo and group exhibitions in India and the UK, this time came out with her untitled abstracts in vibrant colours of red, blue and yellow, after an overwhelming success of her exhibition, Co-relation, last year.
Sarab's works speak of thick notes in spectacular mix of various bright shades, done in experimental sizes of various canvases: rectangle, door-like and picture frame. If you ask a lay man, he may not be able to relate himself to an abstract painting. He might be even unwilling to spare a wider glance to a `not so telling' form of art. But Sarab's abstract works do not plead attention— it captures the same. Her intelligent use of vibrant colours, make even the dullest painting look lively, as she leaves enough breathing space amongst a medley of luminous shades.
Mehar Soni's work seems to be a contrast from her mother, though she draws inspiration from her.
Mehar's 12 exhibited works, showed tremendous understanding of design, colour scheme and imagination. "I am surprised at the maturity of her mind at this tender age. Her colour scheme, her distinct ideas, and her brush strokes are very mature, a rare at her age," said Dipto Bandhopahyaya, the curator at IHC. Mehar's lines are frail and flowing. Her paintings amalgamate well with the bright or dull shades which envelop them. Most of her paintings show planned strokes which they are not. "She just paints, without giving slightest impression of a pensive mood. Even if I try to tell her which colour to use, she refuses to buy my idea and yet, comes out better," says the proud mother. The child not only surprises but even inspires her mother with her innovative ideas.
The mother, however, feebly complained to her child, "Don't give me a run for my money…" But the kid stole the show, undaunted.