M A I N N E W S
Five killed in car accident
Tribune News Service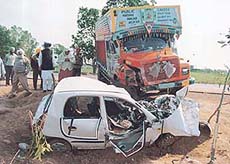 The mangled remains of a car after a road accident in Banur on Saturday night.
Patiala, January 27
Five youths namely Harshwinder Singh, a correspondent of Ajit Samachar from Samana, Dula Singh, Sandeep Singh Virk, Revati Raman and Ramesh from Samana, who were travelling in their car from Samana to Kasauli to consult an astrologer, met with an accident when the car collided head on with a truck at Banur late last night.
Three of them died on the spot while the other two were declared dead on arrival at A.P. Jain Memorial Hospital, Rajpura. Harshwinder Singh was the son of a Samana-based journalist of Ajit group of newspapers, Mr Pritam Singh Nagi.
The Director of Public Relations, Punjab, Mr S.K. Ahluwalia, SDM, Samana Mr Sukhwinder Singh, Deputy Commissioner, Patiala, Mr Jasbir Singh Bir, DPRO Ujagar Singh and leaders of political parties have mourned the death of youths.

Supporters of Bibi, Khaira clash
Kapurthala, January 27
The Bholath police has registered a criminal case against eight supporters of Bibi Jagir Kaur, a former SGPC chief, under Section 427 (mischief), 336 (doing any act which endangers human life), 341 (wrongfully restraining any section), 148, 149 (unlawful assembly) and 188 of the IPC on the charge of attacking Congress candidate Sukhpal Singh Khaira at his election rally at Chotti Miani village in the Bholath constituency last evening.
According to police sources, the supporters of Bibi Jagir Kaur in an inebriated condition attacked the election rally of Mr Sukhpal Singh Khaira by hurling stones resulting in injuries to some of the supporters of Mr Khaira.
The police said three supporters of Mr Khaira had been admitted to a hospital at Bholath and their condition was stated to be out of danger. Three supporters of Bibi Jagir Kaur, who also sustained minor injuries in the clash, had been admitted to a hospital at Begowal.
Mr Gurpreet Deo, SSP told mediapersons that Begowal SHO Pritpal Singh had been transferred to the police lines for his failure to handle the situation.
She said Mr J.S. Randhawa, SP (Headquarters), had been deputed to conduct an inquiry and asked to submit the report immediately. She further said the police had sent a report to the District Electoral Officer, Dr Roshan Sunkaria, for forwarding to the Chief Election Commissioner.
Mr Khaira alleged that the incident took place at the behest of Bibi Jagir Kaur and the police remained a silent spectator.
Mr Khaira had lodged a complaint with the SSP and faxed the complaint to the Election Commission of India and the State Electoral Officer for action against the police. He also demanded the suspension of SHO Pritpal Singh and the transfer of DSP Hermail Singh.
Reacting to her rivalsí charges, Bibi Jagir Kaur, sitting MLA from Bholath, denied that her supporters had attacked Mr Khaira and tried to disrupt his election meeting. In a letter faxed to the State Electoral Officer she claimed that during an election meeting at Chotti Miani yesterday Mr Khaira and his supporters passed derogatory remarks against her.
The letter alleged that the Congress supporters beat up children of Miani village as they were shouting slogans in her favour. This instigated their parents and her supporters who came out of their houses to rescue the children. It was at this juncture that a gunman of Mr Khaira fired 13 rounds in the air and the police which had arrived on the scene also beat up her supporters. UNI