M A I N N E W S
Suspect in Kolkata attack held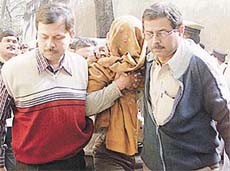 Plain clothes policemen escort a hooded Jamaluddin Nasir into a criminal court in
Kolkata on Wednesday.
— Reuters photo
Kolkata, January 30
The police today claimed to have achieved yet another major breakthrough in the January 22 terrorist attack on American Center here, with the arrest of Jamaluddin Nasir, who had allegedly provided back-up support to the terrorists, and said more terrorists were hiding in the city.
Nasir who was arrested from a house in the Tiljala area late last night admitted during interrogation that he had taken a house at Khirgaon in Hazaribagh from September last year on a monthly rent of Rs 1,500 on a request from his friend Asif Reza Khan, killed earlier by the police, city Police Commissioner Sujoy Chakraborty told a press conference here.
He said Nasir confessed having received on January 16 at Howrah station the two terrorists, Mohammad Zahid, alias Idris, and Sadaquat, who came by Jodhpur Express, and provided back-up support, including arranging for their stay at a Tiljala house. The two were responsible for the January 22 attack.
On whether Nasir was a member of the Pak-based terrorist outfit Lashkar-e-Toiba, Mr Chakraborty said it could not be confirmed now as interrogation was on.
"But Nasir, who used to collect money from different cities in India on instruction from Asif Reza Khan, cannot have any noble purpose", he said.
Mr Chakraborty said Nasir was produced in the court of the Chief Metropolitan Magistrate, which remanded him in police custody till February 13. He was booked under Sections 121, 121A, 302, 307, 120 of the IPC along with Sections 25 and 27 of the Arms Act.
Asked whether more terrorists were hiding in the city, the police chief said, "definitely there are many," but refused to divulge more details.
HAZARIBAGH (Jharkhand): Hasan Imam, a main link between Pakistani Terrorist Sadaquat and his killed accomplice Mohammed Idris, alias Mohammed Zaheed, was arrested on Wednesday as the police stepped up its offensive to apprehend the absconding militants.
The police said Hasan Imam was taken into custody from Sherghati in Bihar's Gaya district and was taken to Hazaribagh for interrogation.
Sadaquat, who was steering the motor cycle with Idris on the pillion, had gone on a shooting spree from his AK-47 rifle at American Center in Kolkata on January 22, in which four policemen were killed. PTI