SIGHT & SOUND
Oh, what a lovely channel!
Amita Malik
AS a media watcher, and, hopefully, the viewers' watchdog, I decided to watch the launch of the Bharti channel on the set rather than brave the auditorium. In any case, my colleagues reported that so full was the place with bureaucrats and families, that they had a hard time getting a seat.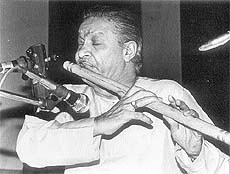 Hariprasad Chaurasia
Ironically enough, they had to call on Tejeshwar Singh, the very same Tejeshwar who had resigned because they had downgraded him as a newscaster, to anchor the launch. And I must report with pleasure, that the launch programme, which was entirely produced by DD's own staff, was a smash hit in terms of content.
It had three major artists, Satish Gujral, Ram Kumar and Manjeet Bawa doing on-the-spot paintings on a somewhat shaky easel on top of some steps on the stage. For music, they had everyone, from Hariprasad Chaurasia, Begum Parveen Sultana (they forgot to mention she is from Assam), Dr L. Subramaniam (they mentioned all the famous foreigners and Indians with whom he had played, except Zubin Mehta) they even had the Colonial Cousins.
There was an amusing snarl up of painters and musicians which lent novelty to the proceedings. The only top artist who can do such quickies is M.F. Hussain, obviously not top of the list with the government. So while Satish Gujral did a meek black and white bird in a corner of the canvas, Ram Kumar took his time. So when he was half way through they hurriedly brought on Dr Subramaniam. So it became Kumar painting with incidental music by Subramaniam or, if you prefer, Subramaniam painting with Ram Kumar as backdrop. By the time Subramaniam finished, both Kumar and the painting had disappeared without a trace or a bow. And Manjeet Bawa did a magnificent leaping cow framed in vibrant red, with Parveen Sultana in full swing. He also disappeared by the time she finished, and we never saw his painting in close-up.
The Colonial Cousins were great with the audience. But with their tendency for "boss-worship", the cameras were throughout focused on the six faces of ministers and bureaucrats. The only audience reactions were from them. In any case, the sound failed when Tejeshwar was doing his opening and also off and on, including applause from the audience.
If this is going to be the standard fare, this columnist is not only sold, but will watch frequently, with pleasure. Alas, next day the party was over and came the daily bread. Revivals of the 50 years of Independence programme, all the patriotic videos (Mile sur hamara... onwards) Mickey Mouse, a Punjabi disco item by Jaspal Jassi where the earthy audience took over, jumped on the stage and joined in. Otherwise, lots of old wine in new bottles, including the moving programme about the Oberoi brother and AIDS. Also, mad mix-up of items, including dances captioned Manipuri folk, Assam folk and then Israeli folk dance. But, nevertheless, good entertainment.
But we shall look for new programmes, of which DD is perfectly capable, and proper announcements of individual items by proper announcers, instead of a mad relay race, without any introduction of very mixed-up items. I also wish everyone, beginning with Lata, did not do their own version of Vande Mataram which is a national song and not subject to quick music changes. The most moving item was the splendid children's choral group, one of the best I have heard on any international network. And glad poet Naresh Saxena kept his recital short.
Now, of necessity, some mini reviews. Manisha, the Hindi commentator for Beating the Retreat, knew neither her subject nor military protocol. Armed with a suitcase full of cliches and platitudes, not to forget a poem by the PM jabbering away shrilly at moments like fanfares, carrying on with trite comments at the end when the lights came on, when even her colleague in English had said: "Let the viewers see for themselves". And shame on portions of the audience which shattered the solemnity of Mahatma Gandhi's favourite hymn, "Abide With Me", which is the climax, by talking loudly. DD's camerapersons, with producer Sharad Dutt, did splendidly and the bands did us proud, as usual.
TAILPIECE: Smita Prakash made a real hash of her interview with Tapan Sinha, often making comments which he had to contradict gently, including about himself. She also mentioned Shabana Azmi and Jaya Bachchan as young artistes (which he corrected) and forgot Bengali directors of international fame, such as Gautam Ghosh, Buddhadev Dasgupta, Aparna Sen, when dismissing contemporary directors with contempt. You need vast research, experience and authority for such interviews. There are not many David Frosts, Tim Sebastians, Karan Thapars and Vir Sanghvis around. And Smita is not one of them.