The park was initially named Hailey National Park. In 1954, it was renamed Ramganga National Park after the Ramganga river, which passes through the park. It is the only source of perennial water in this area. It was only in 1956-57 that it was named after the man who was a pioneer of wildlife conservation in India. A major attraction of this park is a museum, which charts the life and experiences of this extraordinary man, at his former home in Kawadhungi (32 km from Ramnagar).
Elevation within the Corbett Tiger Reserve ranges from 400 mt to 1200 mt. Its area extends from the outer Himalayas to the foothills of the middle Himalayas. It is traditionally divided into a number of divisions known as chaurs like the Kinnauli, Bijarani, Paterpani, Mohanpani etc. The most popular among the tourists is the Dhikala Chaur. The Dhikala camp is home to wildlife such as chital, which can be seen from the camp itself.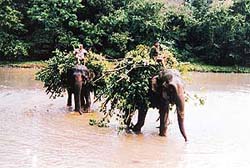 The protected area is endowed with lush vegetation. In the lower hilly region are Sal forests and along the river grow shisham and khair. However, the strips of alluvial grasslands locally known as chaurs (to the west of Dhikala), which were the grazing ground for the resident wildlife, were swept away after the commissioning of the Kalagarh Dam. The 80-sq km Kalagarh Lake was created with the construction of this dam. This lake has proved to be a boon for migratory birds as well as bird watchers besides adding to the scenic beauty of this wonderful park.
The park gained importance as a tiger reserve in India, when the prestigious "Project Tiger" was launched here in 1973. The first 20 years of this project witnessed a prodigious growth (nearly 50 per cent) in the number of tigers in this reserve, establishing the efficacy of this project and sincerity of the wardens of the park. But later on the park gained disrepute when some of the tigers turned man-eaters and hunting them became a passion. Although the wildlife and forest authorities have tried to control the underlying causes which force tigers to turn into man-eaters and stop the local people and professionals from hunting them but their number is gradually decreasing. At present, there are 250 tigers in the reserve.
The abundance of water and vegetation helps support a large population (200 to 300) of elephants (elehphas maximus), another main attraction in Corbett. If instigated, these elephants can prove dangerous to humans. It is advisable to view them from far.
Besides tigers and elephants, there are nearly 50 species of mammals found here. Prominent among them are chital (spotted deer), kakkar (barking deer), sambar, leopard, sloth bear, common otter, hog deer, etc.
Among other wild animals, various kinds of cats are also found here e.g. the leopard cat, jungle cat and fishing cat. But inundation of much of the grasslands has led to a reduction in the population of the hog deer, spotted deer and the Indian porcupine. The swamp deer, which was also found here, has become locally extinct.
The ample water resources of the park attract a large number of migratory birds during both summer and winter. Nearly 600 species of birds can be found here during these seasons. The notable among them are the black throated baya, common hyna, gulla, hooren, herons, egrets and darter. The gharial and crocodile are also found here.
The park is open to visitors from November 15 to June 15. The rainy season witnesses heavy rainfall, between 1400 mm and 2800 mm. The weather remains humid throughout the year. In summer, the temperature can rise up to 44°C and the hot winds blow between 10 a.m. and 8 p.m. Winters are relatively cold, with the minimum temperature dropping to 5°C.
If you are a keen photographer or doing research in wildlife, the ideal period to visit the park is between April and June. The authorities charge a fee for photography. The fee for personal movie recording and documentary filming is Rs 2,500 from Indians and Rs 5,000 (approximately US $100) from foreign nationals. Similarly, for shooting feature films, authorities charge Rs 20,000 (US $400) from both Indian nationals and foreign nationals.
The main administrative centre of the park is at Ramnagar, which is 250 km north east of New Delhi. Bus services to Ramnagar are available from Nainital, Haldwani, Ranikhet and New Delhi. Fast trains are available up to Moradabad. However, the nearest railway station is Kathgodam. The nearest airport is at Pantnagar.
The Corbett Tiger Reserve can be accessed through a number of gates. The prominent among them is 1 km from Ramnagar, on the road to the Byrari camp. The Dhangarhi gate leads to the popular Dhikala camp.
To traverse and explore the park, jeeps provide an ideal mode of transport and are available on hire at Ramnagar. Conducted tour buses are also available. There is also a bus service between Ramnagar and Dhikala. However for the more adventurous, elephants guided by expert mahouts are available. Conducted tours (per person) are available at Bijrani for Rs 200 for Indian nationals and Rs 600 (US $12 approximately) for foreign nationals. And similarly, at Dhikala the fare is Rs 400 for Indians and Rs 1200 (US $24 approximately) for foreigners. Children below 12 years of age are charged 50 per cent less than the normal rates. The charges for elephant rides vary from Rs 20 to Rs 200. Students are however given large discounts.


Corbett Tiger Reserve Factsheet
Area: 1318.54 sq km, including Sonanadi Wildlife Sanctuary (301.18 sq km) and National Park (520.82 sq km).
Best time: Dec—Feb (for overall visits) April — June (for wildlife viewing — be prepared for very hot day temperatures).
Nearest town: Ramnagar
Getting there: Train and bus connections to Ramnagar. A 7-hour drive from New Delhi.
Max length of one permit: Three days (to stay inside the park).
Accommodation: Forest rest houses (basic but ideal) many resorts outside park periphery.
Eating facilities: Restaurants and canteen available inside park.
Shopping: Very basic grocery shop within the park.
Communication: No facilities available inside the park and mobile phones do not catch any signal. Available outside the park.
What to wear: Earth-coloured clothes (greens and browns). Can get extremely dry and hot in summer months. Use a cap or sunshade. Be extremely warmly clad for early morning drives and elephant rides into the park in the winter months.
Important to carry: Torch, own towel (if staying inside the park), any specific medicine you consume, any specialised batteries for cameras, binoculars, etc.
Main animal attractions: Elephants, tigers.
Temperature: Winters (can go down to 5 — 20 degrees celsius).
Summers (can go up to 40 — 45 degrees celsius).
Open: November 15 to June 15
Timings: 7 am — 5pm (winter main gate entrance/exit).
6 am — 6 pm (summer main gate entrance/exit).
Must see: Crocodile Pool, Dhikala Machaan, Sambar Road, Getheryo, evening movie on wildlife if staying at Dhikala, Library (Dhikala), Museum (Dhangadi gate).
Note for smokers: Smoking is permitted only in the rest house complexes. Carry a stock of your preferred brand. Please adhere to this rule as the smallest spark can cause huge devastating forest fires, especially in the dry summer months.
Alcohol and non-veg: Not permitted within the park boundaries.
Ways to travel within the park: Elephant rides, safari vehicles, own vehicle.
Contact address for reserving accommodation: Director, Corbett Tiger Reserve, Ramnagar-244715 (India). Phone: 91-5945-85489 and Fax: 91-5945-85376